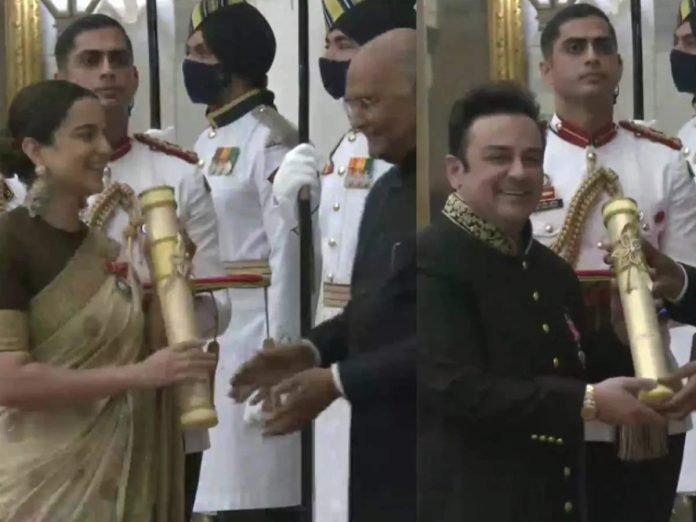 Kangana Ranaut has been honored with the Padma Shri Award today. Apart from Kangana, singer Adnan Sami was also honored with the Padma Shri award. A total of 61 Padma Shri awardees have been honored today. President Ram Nath Kovind presented the Padma Shri award to Kangana Ranaut along with a citation. Kangana Ranaut arrived in a silk sari for the award ceremony. He was also wearing big earrings in his ears and his hair was tied up. Kangana has received this award for her outstanding contribution to the performing arts.
While receiving the award, Kangana Ranaut (Kangana RanautPadma Shri Award) greeted all the people present in the auditorium of Rashtrapati Bhavan there. Kangana was very happy while receiving the award. The President also congratulated him. During this, her sister also appeared among the people and she was applauding happily when Kangana got the award.
At the same time, singer Adnan Sami arrived to receive the Padma Shri award in a black and white outfit. During this, Adnan Sami also appeared very happy. President Ram Nath Kovind congratulated him on receiving this honor.
Kangana Ranaut has also expressed her happiness on receiving the award on her Insta story. Kangana has already won the National Award 4 times. On receiving the Padma Shri award, Kangana Ranaut said last year, "I am happy, and I am honored. I thank my country for this honor and I dedicate it to every woman who dares to dream. To every daughter…to every mother…and to the dreams of the women who will shape the future of our country."
Kangana Ranaut has shared happiness with the fans after receiving the award. She also told that on the special day of receiving the award, she is entering Bollywood as a producer. Sharing the poster of the film 'Tikoo Weds Sheru', Kangana Ranaut wrote, "Starting a new journey as a producer on the day of Padma Shri award, which is very special for me." The name of Kangana's production company is Manikarnika Film Pvt Ltd. Nawazuddin Siddiqui and Avneet Kaur are in lead roles in this film.