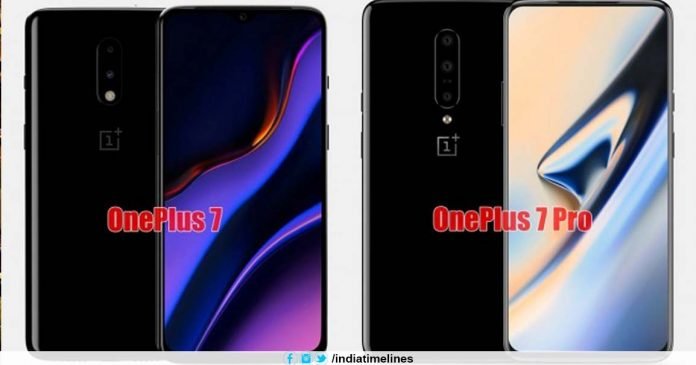 OnePlus 7 Pro and OnePlus 7 is Launched Today- Chinese smartphone maker OnePlus is ready to launch its OnePlus 7 Series flagship smartphones OnePlus 7 Pro and OnePlus 7. Today it will be launched globally in Bengaluru, London, New York and India. The details associated with this smartphone were visible online for a long time and finally, it was ready for launch. OnePlus 7 is considered to be an upgrade to the company's last successful device OnePlus 6T, while all eyes will be on OnePlus 7 Pro. About OnePlus 7 Pro, the company claims that it will be better and stronger than all current premium smartphones.
OnePlus 7 Pro and OnePlus 7 is Launched Today
The OnePlus 7 Pro smartphone will come with premium features, which include a 90Hz refresh rate display, triple camera setup on the rear panel and a pop-up selfie camera. It is said that this smartphone will come with 5G support. This is the first time that OnePlus is going to launch two flagship smartphones together in the global market. Both OnePlus 7 and OnePlus 7 Pro will be from premium devices like the already existing iPhone XS, Galaxy S10 + and Huawei P30 Pro in the collision market.
How to see live events?
OnePlus will launch its smartphones today in New York, London and Bengaluru. This launch event in Bangalore, India, has been kept at the International Exhibition Center. This event will start at 8.00 pm in the evening according to Indian time. This launch event can be seen live on the company's official YouTube channel. Last month, the company had also started selling tickets for event tickets for Rs 999 and for a few minutes all tickets for the event were sold. For the latest news, you can visit www.indiatimelines.com.
Price and Specification -OnePlus 7 Pro and OnePlus 7 is Launched Today
OnePlus has already confirmed that these devices in India can be bought on the online shopping platform Amazon. In the past, pre-booking of these smartphones has also been started on Amazon. Customers will have to pay 1000 rupees to book the flagship device, which will later be available to the customers while making full payment. Apart from Amazon India, OnePlus 7 Pro can also be booked offline on chroma and Reliance digital stores. Speaking of the price, the initial price of OnePlus 7 Pro can be Rs 49,999. OnePlus 7 will be cheaper than it is, but the initial price of the phone can be up to Rs 38,999.