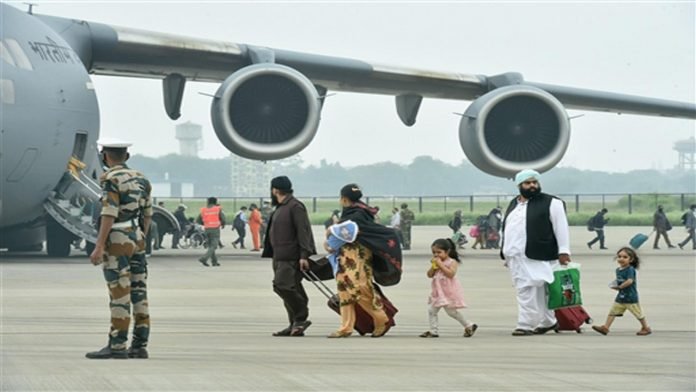 Now India's rescue operation in the last round- only two more planes will go to Afghanistan- India's relief and rescue operation in Afghanistan is now in its last phase amid Taliban outcry. India will send two planes to Afghanistan on Monday and after that the mission of the Ministry of External Affairs will be completed which seemed almost impossible by August 15. The Taliban captured the capital Kabul on the same day.
Two more planes will reach India from Kabul on Monday. After this, the number of people brought from Afghanistan to India by now will exceed 700. Since August 16, till now, a total of 6 aircraft of the Indian Air Force and Air India have brought people from Kabul to India.
According to the diplomats present in Delhi and Kabul, bringing Indians from Kabul was not such an easy process. For this, there had to be a lot of maneuvers at the diplomatic and security level, in which External Affairs Minister S. Along with Jaishankar, even top officials related to national security had to be involved.
Where Kabul's Hamid Karzai Airport is in the possession of American Rangers, to reach there, people had to first cross the border of the Turkish army and then the Taliban. Even if a bus reaches the airport, crossing the restrictions on the way, it is facing firing from the Turkish security forces to disperse the crowd. After this, the US military is allowing any passenger to board the plane only after a thorough investigation.
Last week, India sent the first plane to rescue its citizens. At that time, External Affairs Minister S. Jaishankar was constantly in touch with the US, Turkey, Qatar and Indian allies in Central Asia so that the aircraft could take off without a hitch. Apart from this, the National Security Team from Delhi, through their American counterparts and their sources related to the Taliban leadership, were constantly trying to get the planes out of Afghanistan. However, it was not enough.
Indian aircraft were not allowed to park at Kabul, due to which the Indian Air Force and Air India aircraft were waiting for the green signal to fly to Kabul by standing at Dushanbe and Tashkent airports.
The situation was further complicated because Indian Air Force aircraft were not allowed to fly over Pakistani airspace. Therefore, these aircraft reached Afghan via Iran with the special approval of Tehran. Due to this, the planes took extra time to reach Kabul, on their return to India, these planes had to first land at Jamnagar in Gujarat and then reach Delhi. Despite facing serious security threats in Kabul, India finally managed to bring its citizens back home safely.