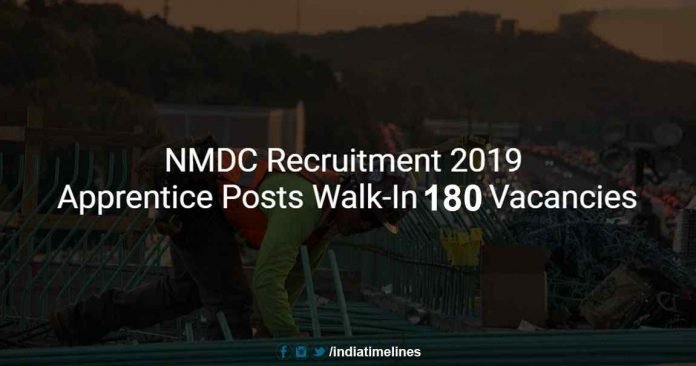 NMDC Recruitment 2019- NMDC Ltd. Balladila will soon organize the Walk-in-Interview for Bachelor Trainee, Technician (Diploma) Trainee, Technician Vocational (Business) and Trade Trainee under Iron Ore Khan, Kirandul Complex, Kirandul under trainee Act 1961 and amended 1973, 1976, 2014 and 2017. Is going. Under the Trainees Act 1961, the candidates who have already received training will be considered ineligible for the candidature. Such candidates have passed qualifying exams in the year 2016 or later, of which the minimum age of 18 years will be eligible for trainee training. The eligible candidate who has the following qualifications can join Walk in the interview.
NMDC Recruitment 2019 – Apprentice Vacancies, Walk-in-Interview
Walk-In Interview Organized Training Institute, BIOM Kirandul Complex Pin 494556, will be a different day for different trade in district-Dantewada. Between the specific dates, candidates can reach the scheduled date for their trade on time, as per the official notification. Those candidates who participate in the interview will not be reimbursed for any kind of travel allowance / daily allowance. After training to the trainee, Balladila Iron Ore Khan, Kirandul Complex, will not be compelled to provide any kind of employment.
Prior to the interview, the candidate should submit the original certificates for verification of the biodata (including photograph) and necessary documents and caste certificates, birth certificates, self-attested copies of the eligibility certificate. After verification, a verified copy of all documents will be submitted. Only the eligible candidate will be allowed for the interview. The stipend will be payable according to the Trainees Act 1961.
Note: Candidates are advised to attend the Apprenticeship Portal www.ncvtmis.gov.in and to participate in the list (B, S) in Apprenticeship Portal and www.mhrdnats.gov to participate in the list (A). It is mandatory to register yourself in .in. After registration, it is necessary for the trainees to be included in the interview for these vacancies shown under BIWM, Kirandul Complex. For the latest updates, you can visit www.indiatimelines.com.