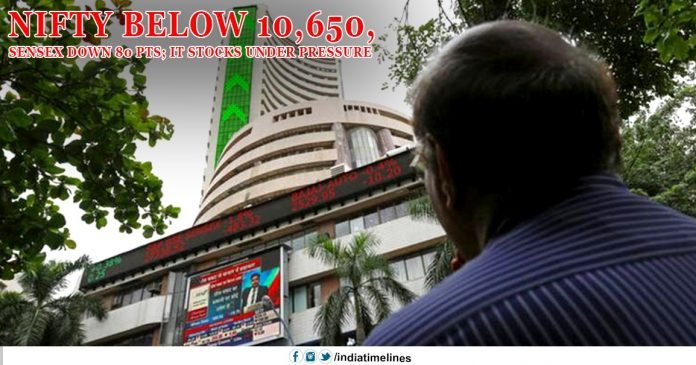 Nifty below 10 650 & Sensex down 80 pts:- In sectors, automobiles, banks, and infrastructure names are marketed in green, whereas the Nifty mid-cap index has increased by one-third. The pressure of the sell-out in the market continues to this day. The Sensex today is more than 370 points broken. On the other hand, the Nifty slipped 120 points to below 10700. On the day of Weekly Expiry, the Bank Nifty also has 200 points weakness. The midcap index also closed 125 points.
Nifty below 10 650 & Sensex down 80 pts
Today, the highest decline was in Eicher Motors, HPCL, Indiabulls Housing, and IOC. On the other hand, Bharti Infra, Bajaj Auto, Asian Paints, and HUL were the biggest gainers.
With the swap ratio in favor of the Bank of Baroda, Dena Bank and Vijaya Bank have been beaten badly today. Dena Bank is broken 18.5 percent today. In Vijaya Bank, there was a decline of more than 5.5 percent. But Bank of Baroda has gained 1.75 percent strength.
Oil marketing companies have seen pressure on crude stocks today. HPCL today is 3 percent, whereas BPCL has seen a fall of 2 percent. The IOC also closed today with a weakness of 3 percent. With the rise in crude oil today, the pressure in aviation stocks has also been under pressure. Jet Airways dropped 4.75 percent, while SpiceJet dropped 2.75 percent.
With the fall in subscribers in October, there was pressure on Vodafone Idea and Bharti Airtel shares. Vodafone Idea is 2.75 percent broken while Bharti Airtel is 1.25 percent weak. In October, Airtel lost 18 lakh subscribers, while Vodafone Idea lost 74 lakh subscribers during this period.
At the turn of the end, the BSE 30-share index Sensex fell by 377.81 points, or 1.05 percent, to close at 35513.71 levels. On the other hand, NSE's 50-share index was down by 120.25 points, which was 1.1 percent down at 10672.25.
Nifty below 10 650 & Sensex down 80 pts, How did the stock market move on Wednesday?
Earlier, the country's stock markets fell on Wednesday. The broader index of the Sensex dropped 363.05 points to 35,891.52 and the Nifty ended 117.60 points down at 10,792.50 points. 5 of the 30 Sensex stocks gained, with Sun Pharma (1.66 percent), TCS (1.09 percent), Asian Paints (0.71 percent), Infosys (0.70 percent) and Yes Bank (0.22 percent).
On the other hand, Vedanta (4.48 percent), Tata Steel (4.21 percent), Mahindra & Mahindra (4.15 percent), Tata Motors (2.91 percent) and Maruti (2.74 percent) were the major Sensex losers. On Wednesday, the Nifty closed 41.25 points lower at 10,868.85 and closed 117.60 points or 1.08 percent down at 10,792.50. The Nifty touched the all-time high of 10,895.35 and touched a low of 10,735.05 in the day's trading.