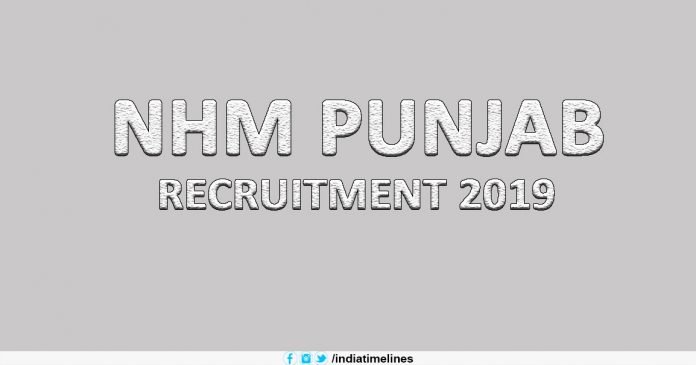 NHM Punjab Recruitment 2019 – Under the National Health Mission (NHM), recruitments will be made to 1000 posts of Community Health Officer in Punjab. Candidates who apply will have to do six-month bridge course. After this, appointment will be made as a Community Health Officer. The benefits of relaxation of all types of reservation and age limit will be available to the native residents of Punjab. The last date for applying is 30 May 2019. More information about vacancies is as follows:
NHM Punjab Recruitment 2019, Apply Online
Community Health Officer, Post: 1000 (Unreserved: 444)
Educational Qualification
– B.Sc degree in nursing. Or Post Basic BSc Nursing. In addition, there should be registration in Rajasthan / State Nursing Council. Or
– Bachelor Degree (BAMS) in Ayurveda Also, registration should be done at the Center / State Council of Ayurveda.
– Candidates will have to do six-month Bridge Program Certificate Course in Community Health, organized by NHM, Punjab.
– Only after completing this course will these appointments be made.
– Have studied Punjabi language at the tenth level.
Desirability
– There should be a good grip on the candidate's regional and local language.
– Should have experience of at least two years in the work related to health sector.
Monthly Salary: Rs 15000
Age Range
'Must be up to 35 years. Age will be calculated on the basis of 01 May 2019.
The benefit of age relaxation will be given as per the rules of the state government.
Contract term: One year. This period can also be extended on the basis of performance.
Selection Process for NHM Punjab Recruitment 2019
Eligible candidates will be selected from the written examination, which will be 100 marks.
Application fee
– Rs 590 for general category It can be paid by bank invoices or online.
– See related websites for payment information.
Application Process for NHM Punjab Recruitment 2019
– Login to the website (http://bfuhs.ac.in). Bridge Course: Click here to apply online for Bridge Course session July 2019 link in the latest Notices section on the homepage.
– This will open a new page. Click on the Impertent Details link to see ads related to the post. Read it carefully and check your eligibility.
– Click on the Registration tab for online application. After this complete the process as per the instructions. This will generate registration number and password.
– Login with both help. Most application fees must be paid. Then upload a scan copy of photos, signature and thumb impression.
– After this submit the application form by filling it with the instructions and submit it. Finally, take out its printout and keep it safe.
Special dates
-Ending date to Apply online: 30 May 2019
– Written test will be done: 06 June 2019
More info here
Website: www.bfuhs.ac.in, www.nhmpunjab.in and for the latest government jobs, you can visit www.indiatimelines.com.