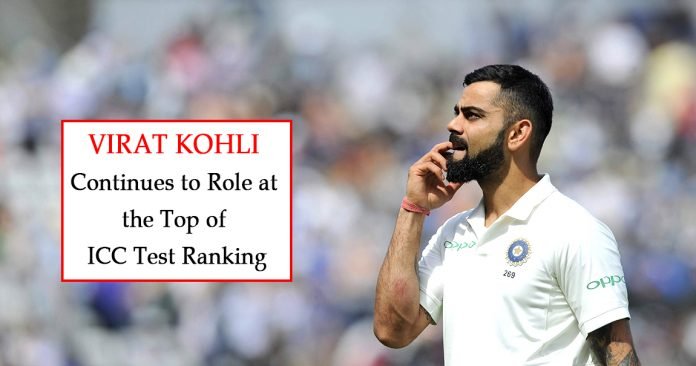 Virat Kohli continues to rule at the top of ICC Test rankings: Indian Captain Virat Kohli still maintained his ranking at the Latest international Cricket Council (ICC) Test Ranking, it was reported on Monday. After losing 4th Test against England conducted at Rose Bowl in Southampton, he scored 46 and 58 but still, Virat Kohli manages to stay at the number one with 937 rating focus to his name.
Virat Kohli Scored 544 runs in his 8th innings against ongoing series with England, is eleventh in the rundown of best ever according to rating points. Cheteshwar Purjara is on 6th position but his unbeaten score of 132, which helped India initiate the 1st innings lead, has replaced him from 763 to 798 points.
Virat Kohli continues to rule at the top of ICC Test rankings
Mohammad Shami, the fastest bowler of India has come under top 20 just because his 6 wicket match haul has moved up 3 places and give 19 positions in the list of bowlers, on the other side his partner Ishant Sharma's 4 wickets has lifted him 4 places to 25th position. Jasprit Bumrah has pursued the great start of his test career, after his 5th test match he is maintaining 37th positing while scoring the career-best 487 points. The all-rounder of England Sam Curran has taken advantage in ranking while the spinner Moeen Ali has also ranked up his position after the Southampton Test.
The 20-year-old Curran, After producing important knocks of 46 and 78 in his 4th test match, he lifted up 29 places to 43rd position in the list of batsmen. The son of ex-batmen of Zimbabwe and the England Player Tom Curran's younger brother has also won 11 places, among the list of bowlers he has positioned 55 and after gaining 27 slots among the list of all-rounders, he stays in the position 15th.
Player of the match Ali's 9 wicket match haul has racked up 3 places and give 33rd position with a large gain in rating points. The off-spinner, who saved 4 for 71 and 5 for 63 in the 2 innings, and also achieved 66 points to gain 543 points in bowling, in the list of an all-rounder, he won one slot to gain 7th place.