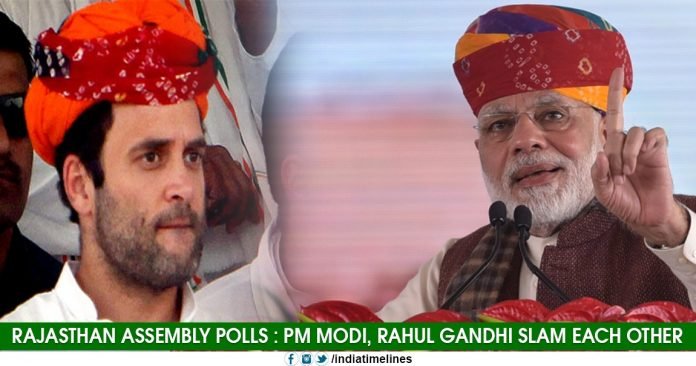 Rajasthan Assembly Polls: For the Rajasthan assembly elections, both BJP and Congress have put their complete efforts in the promotion for the last phase. While the Congress is making an issue for the failures of the Vasundhara government, Modi is preventing the family from attacking the Gandhi family, issue of their caste and Ayodhya issue, making the battle from being localized.
Rajasthan Assembly Polls
On Alwar Rally, when PM Modi was talking about Ayodhya, caste, and Gandhi family, only a few miles away from Shaheed Memorial, the Congress leader by former MP and Union Minister Jitender Singh were sitting on the dharna. This dam was allegedly on the issue of the suicide of four boys due to fear of unemployment. The alignment of the different issues of these two parties in Alwar is enough to convince Rajasthan to prove their strategy.
In Rajasthan, both the BJP and the Congress are now busy campaigning for the last phase. The strategy of both of them has become clear. On one hand Congress, where CM Vasundhara is focusing on the government's failures, the BJP is in the middle of an attempt to bring the voters towards national and polarizing issues. Check all the updates of Rajasthan Assembly Polls.
On Sunday, Modi sat on holding a rally on the monument, Rahul Gandhi's trusted Congress leader, Jitendra Singh Shahid, who was associated with the royalty in Alwar while staying in Alwar. He said that Modi should answer that why such unemployment is that four youths had to jump ahead of the train.
Unemployment and corruption in Rajasthan, these two words can be heard anywhere, but talking about CM Raje, people are also talking about 'ego'. On the other hand, Modi is in the field in his old style. His speeches include the Gandhi family, the Congress governments, the alleged neglect of the other leaders, their OBC Route and their own words. Commenting on the caste of Modi, senior Congress leader CP Joshi, gave him an opportunity.
It is believed that Modi is working on setting the strategy of 'Modi versus Rahul' rather than 'Gehlot versus Vasundhara'. Congress has forwarded other faces besides Gehlot. Because of this, Modi is getting help in his strategy. It is difficult to say what the effect is about.
For example, after Modi's rally in Alwar, 18-year-old youth Amit Chaudhary said that the aggressive aggression of PM could not do more than filling the BJP voters. They argue that PM Modi can not always target the Opposition but if he listens to a villager, he was notified that 'he caught the bowl'.