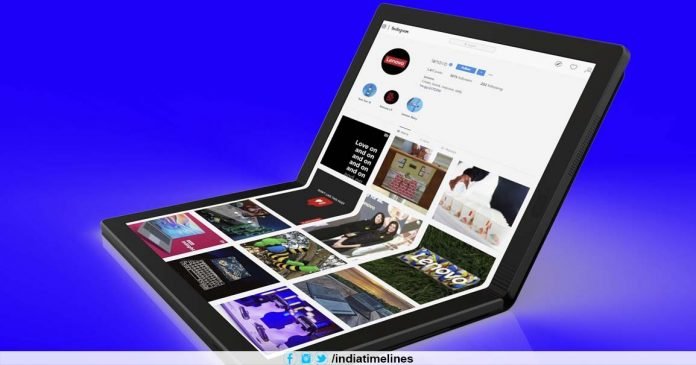 Lenovo Announced Worlds First Foldable PC:- Folding smartphones have already come in the market since the beginning of 2019 and the discussion on Future Technology has accelerated. The Tech Industry is constantly experimenting with foldable screens and now Lenovo brings the personal computer with a foldable screen. The world's first turning PC is currently a prototype and will be prepared by the company on a big scale in the coming time. Lenovo has taken a step forward to foldable technology like a laptop on a large scale and announces this device.
Lenovo Announced Worlds First Foldable PC
According to The Verge, Lenovo's Foldable ThinkPad is not just a cool demo, but the company has been developing it for the past three years. Demo videos and photos of this device have surfaced and the company is preparing to launch the final device in 2020 with the premium ThinkPad X1 branding. To develop this, the company's desire is to give users such a device which can give all the features of the laptop to the users, and not the tablet, like any other secondary device.
If you understand the question directly, why is the turning PC, the answer is portability, that is, it can be easily placed with you and users can move from one place to another. However, compare this device with foldable phones, then the case is exactly the opposite. Companies such as Samsung or Huwai, which make phone foldable, are giving a bigger screen to users in the size of the regular phone. In contrast, Lenovo's purpose for this foldable PC is to give all features while shortening the full-size PC.
Lenovo Announced Worlds First Foldable PC- Talking about the design of the Foldable PC, it has a 13.3-inch 4: 3 2K OLED display. It can be folded from the middle of a book. There is no official information about how much weight it will be, but the company claims it will be less than 1 kilogram. In this way, users will be able to keep it with them just like any book. On opening it, the space given by the screen of a full-size laptop, while folding it becomes half of the normal laptop in size. For the latest updates, you can visit www.indiatimelines.com.
At the moment it is a prototype and it needs finishing from software to hardware. The company claims that it will be easily attached to the wireless keyboard or trackpad and in this case, it will work as a screen. Due to the receipt of the remaining touch inputs, it will be half-folded and used as a laptop, and on the screen, half board will be available for touch keyboard users. There is no doubt that the new technology will completely change the PC Experience, but users will have to wait a little longer to buy the device.