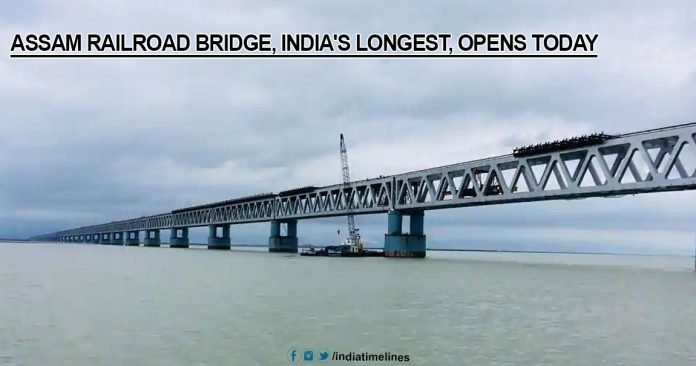 Assam's Bogibeel Bridge Opens Today, Can Land Fighter Jets: Today PM Modi will inaugurate the country,s longest rail cum road bridge on the Brahmaputra river. Due to this bridge, traffic from other states adjacent to the border of Anuranchal Pradesh and China will be easy. The foundation stone of this bridge was laid in 1997 by the then Prime Minister HD Deve Gowda. Although its construction was started in the Atal Government in 2002.
Assam's Bogibeel Bridge Opens Today
This bridge is being considered as a major incentive for Defence equipment on the border with China. The length of this bridge in 4.94 km. This bridge will connect Dibrugarh in Assam to slow-down.
This is the second largest bridge in Asia has a three-lane road at the top and it has a double rail line below it. The bridge is at a height of 32 meters from the water level of Brahmaputra. It is built on the bridge Connecting Sweden and Denmark. To go to Dibrugarh from Arunachal Pradesh, one has to go to Guwati and have to travel more than 500 km. This journey will be less than 100 Kilometers from the bridge.
According to officials, this bridge is a strategic step in the direction of development in the North-East and to solve the issues of Furnishing related issues to get supplies from Tezpur for the armed forces on the Chinese border.
Bogibeel bridge is made in the earthquake-affected area. Here's an earthquake of up to 7 scales of Richter scale. This bridge has been made anti-seismic, which will not be dashed in the earthquake of greater than 7 intensity.
The Bogibeel bridge project was a part of the 1985 Assam Agreement and was approved in 1997-98. The foundation stone of the project was laid on January 22, 1997, by the then Prime Minister HD Deve Gowda and the work on this project was started by Atal Bihari Vajpayee on April 21, 2002. In fact, the bridge was inaugurated with this. Vajpayee's 94th birth anniversary, which died in August this year.
Subsequently, in 2007, Bogibeel Bridge was granted a National Project Status. Expected to be completed by  2009, many deadlines missed the project from about rs. 1,700 crores to about Rs. 5,000 crores, increasing the cost of the massive scale of the project.