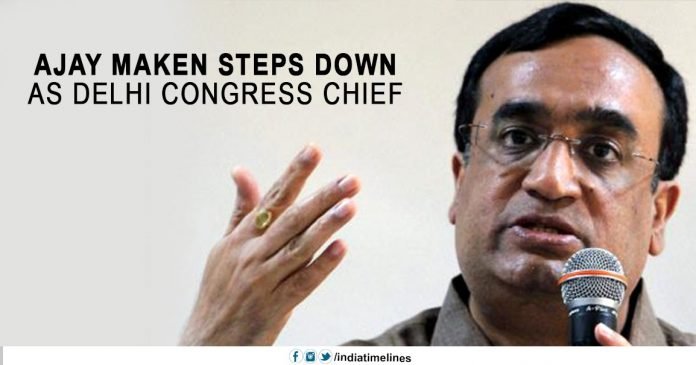 Ajay Maken steps down as Delhi Congress Chief: Ajay Maken resign as president of Delhi Resign Congress? Party Refuses, Delhi Pradesh Congress chief Ajay Maken has suddenly resigned from his post. According to sources, Ajay Maken resigned from the post citing health reasons. The resignation a few months ago in the Lok Sabha elections has shocked the Congress party.
The New Delhi Congress has dismissed reports of Ajay Maken resigning as Delhi's state president. The party said that Maken has gone on holiday for health reasons. Let me tell you that on Tuesday morning there was news of the sudden retirement of Maken in the media. It was also seen to be associated with the discussion of the possible alliance between the Aam Aadmi Party and the Congress.
Ajay Maken steps down as Delhi Congress chief
Congress told that Delhi Congress President Maken has not resigned. They have some health problems and they went for check-ups. They will return soon. Maken recently met Congress President Rahul Gandhi and PC Chack in charge of Delhi affairs.
Congress leader PC Chacko has also rejected the news of Maken's resignation. Chacko said that Maken has not resigned and will continue his business after returning from medical examination abroad. Chacko said, "Maken has not resigned and he will remain the president of Delhi Congress." He said, 'He has informed Congress President Rahul Gandhi and me about going abroad for medical examination. He will return home on September 22. "On the other hand, a senior Delhi Congress leader said," The rumors of resignation have spread through those people who are not friendly to the party. The Delhi Congress is working hard under the leadership of Maken and the result was seen in the corporation elections and some other bye-elections.
Ajay Maken steps down as Delhi Congress chief. Ajay Maken was opposing the possible alliance with the Aam Aadmi Party. It is believed that along with his resignation, the path of electoral alliance between Aam Aadmi Party and Congress has become clear. If both parties come together, then in the general elections, the road to BJP in Delhi's Lok Sabha seats will be difficult. Ajay Maken has been a Lok Sabha MP twice and has been a member of Delhi Assembly three times. During the UPA government, Ajay Makan had the responsibility of the Ministry of Housing, Sports and Youth Ministry and Home Minister at different times. After the resignation of Arvinder Singh Lovely Ajay Maken was given the responsibility of the state president.