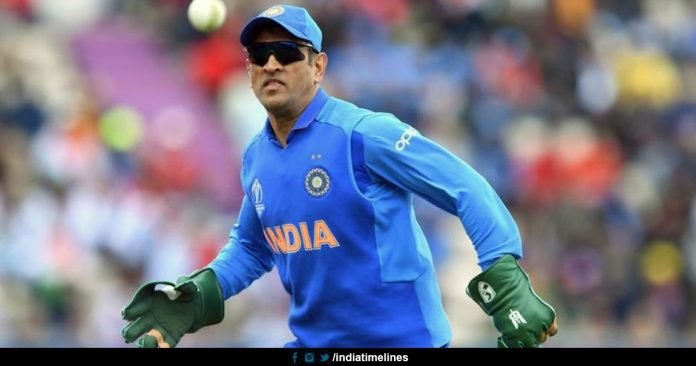 MS Dhoni sports gloves with Indian Army insignia – The debate over the ICC's objection to the Balidaan logo of the Indian Army on the gloves of Team India's veteran wicket-keeper batsman Mahendra Singh Dhoni has increased. In the first match of the World Cup, Dhoni's sacrificial badge was made on the gloves that Dhoni wore against South Africa in the first match. On this, the ICC has appealed to the BCCI to ask Dhoni to remove the logo from the gloves. ICC says that according to the rules, things with any other symbol cannot be worn on the field. However, the BCCI seems to be supporting Dhoni on this issue. Not only this, but the BCCI has also written to the ICC in this regard. According to Vinod Rai, president of BCCI's administrative committee, the ICC has been given the answer on this issue.
MS Dhoni sports gloves with Indian Army insignia
Vinod Rai said, 'We are standing with our players. The sign on Dhoni's gloves is not a symbol of any religion, nor is it commercial. As far as getting permission for permissions is concerned, we will appeal to the ICC about the use of gloves on Dhoni. " The meeting of the BCCI is scheduled to be held at 12 noon at Mumbai Headquarter, in which it can be discussed. Apart from Vinod Rai, BCCI CEO Rahul Johari and many other senior officials will be present in this meeting. Vinod Rai says that after meeting on this issue, we will keep our opinion on this.
Sports celebrities support Dhoni, MS Dhoni sports gloves with Indian Army insignia
Not only this, the country's legendary sports personalities have supported Dhoni on this issue. Wrestler Yogeshwar Dutt said that we are proud of Dhoni and he should continue wearing the gloves of Army's sacrifices badge. Apart from them, wrestler Sushil Kumar has also supported. Former skipper of Hockey Sardar Singh also supported Dhoni.
Milkha says, Dhoni does not need any permission
The Army has honoured Dhoni. Dhoni and Milkha Singh have names in the world, so this is due to the army. Dhoni has not done any wrong thing. Do not raise this issue. Whatever Mahendra Singh Dhoni has done, he did absolutely right. There is no need of permissions for this. He has done a good job by honouring the army. There is no political message in it. For the latest updates, you can visit www.indiatimelines.com.