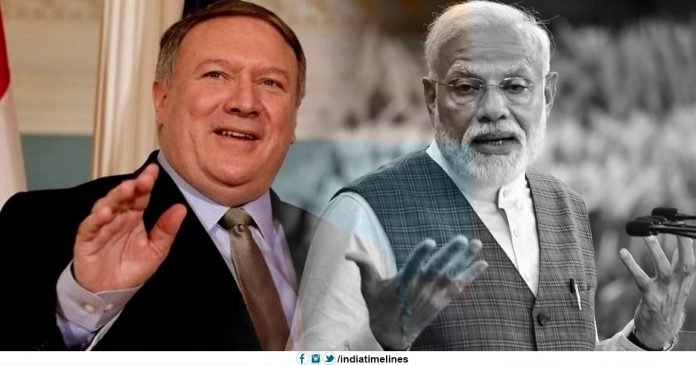 Mike Pompeo lavishes praise on PM Narendra Modi- Secretary of US State Mike Pompey will visit India on 24th June. Earlier, he praised Prime Minister Narendra Modi and External Affairs Minister S. Jaishankar Prasad while referring to BJP's election slogan 'Modi hai to mumkin hai'. In a meeting of the India-US Business Council on Wednesday, Pompey said that I want to see how Modi makes the relations of both countries stronger. I am also excited to meet your counter Jayashankar. They are a strong partner. Pompey's visit to India will be held in Osaka before the G20 summit on 28 and 29 June. During this time, the land will be prepared for Modi-Trump meet.
Mike Pompeo lavishes praise on PM Narendra Modi
Pompeo said, "We will continue to negotiate with the new government of India." Modi had said in his election campaign- If Modi is possible, then everything is possible. Now to see how he makes possible the relationships with the world and the promises made to the people of India. Hopefully, they will strengthen their relationship with the United States. During the visit to India, the Trump administration will discuss the 'ambitious agenda'.
"India was not surprised by the results of elections, but I knew that PM Modi is the stronger. leaders of new ways. He gave 13 years to a kingdom. The son of the tea wala and the development of the poor from the poor is in their priority. They have given electricity and gas stove to millions of homes in India. "
Indo-US dispute will remain closed
The relationship between the two countries has seen not good in the past few days. A few days ago, Trump had decided to exclude India from the Generalized System of Preferences (GSP). There is no import duty on the products that India sends to the United States under GSP. However, the United States has alleged that India imposes heavy import duty on US products that reach its destination, causing it to be damaged. Apart from this, the US also expressed displeasure over buying S-400 missile defence systems from Russia of India. The United States also threatened to ban India. At the same time, the US has banned oil imports from Iran and Venezuela. For the latest updates, you can visit www.indiatimelines.com.
Pompey's Journey Important for the Indo-Pacific region
Mike Pompeo lavishes praise on PM Narendra Modi- The Trump Administration is constantly giving a boost to a strategic partnership with India. In addition to Pompeo India, Sri Lanka, Japan and South Korea will also go. Interact with Prime Minister Modi and External Affairs Minister Jayashankar on the tour of India. The trip to Pampiao's Hind-Pacific region will be completed on June 30. The draft of this four-nation trip has been prepared in the wake of President Donald Trump's efforts to increase the strategic partnership of the Indo-Pacific region.