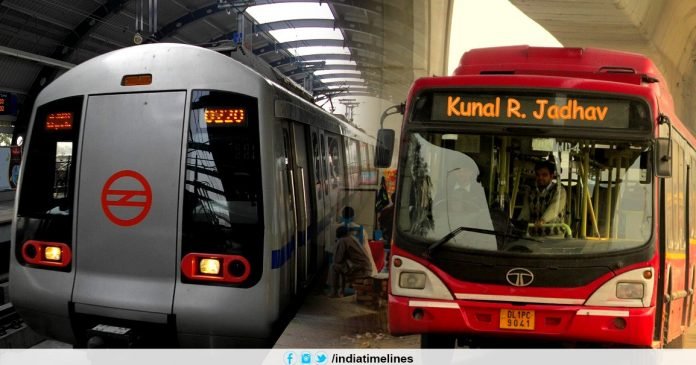 Metro gave a big gift to Delhiites: the pink line extended from blue- easy the journey is now- Before August 15, Delhiites have received a gift from the Delhi Metro (DMRC) to travel without brakes on their longest metro line. Union Minister Hardeep Singh Puri and Delhi Chief Minister Arvind Kejriwal inaugurated the Trilokpuri section of the Delhi Metro's Pink Line on Friday. The 289 meter long Trilokpuri section between Mayur Vihar Pocket-1 and Trilokpuri Sanjay Lake stations is fully connected to the 59 kilometers long Pink Line.
left behind the blue line
With its inauguration, the Pink Line of the Delhi Metro has become its longest corridor. Metro on Pink Line will start running directly from Shiv Vihar to Majlis Park Beach. Earlier the Blue Line (Dwarka to Noida Electronic City) was the longest line with 56.61 km. Now with a length of 49.31 km, the third (Samaypur Badli-HUDA City Center) yellow line is.
People of East Delhi will benefit
The commissioning of this line will connect Anand Vihar Railway Station, Anand Vihar ISBT, Nizamuddin Railway Station, Bazars in South Extension, INA and Lajpat Nagar. There are 38 metro stations on the Pink Line. The Pink Line was introduced in 2018 on several sections. The 'end-to-end linking' of the Pink Line will also greatly benefit the residents of East Delhi or travelling to that area, as earlier the services in Trilokpuri operated on two separate sections. Was being
20 to 25 minutes will be saved
Now people coming to Noida from across the Yamuna of Delhi had the option of Blue Line, Heritage Line and incomplete Pink Line, which was very long and tiring. Till now people used to take Blue Line Metro or Faridabad Metro (Heritage Line) from Kashmere Gate to Mandi House. From here used to take the metro coming to Noida. It used to take a little longer. Now, at least 20 to 25 minutes will be saved from the opening of the line.
Earlier people used to reach Noida like this
Apart from this, people coming to Noida used to get down to Karkardooma or Anand Vihar by taking the Pink Line (which was first incomplete) Metro. After landing at Mandi House by taking the metro going to Dwarka from here, he used to take the metro going to Noida. A lot of time was wasted in this. Now with the complete opening of the Pink Line (from Trilokpuri onwards), people will be able to sit directly in this metro and come to Mayur Vihar-1 station. After this, after sitting in the Blue Line Metro, one station will reach Noida.
These interchange stations will be used more
With the addition of this link, the utility of the interchange stations built on the Pink Line will also increase. Due to the break in the middle of the line, interchange stations like Welcome, Anand Vihar, Karkardooma, Mayur Vihar Phase-1 were not being used much. There are further interchange stations on this line at Lajpat Nagar, INA, Rajouri Garden, Netaji Subhash Place and Azadpur.