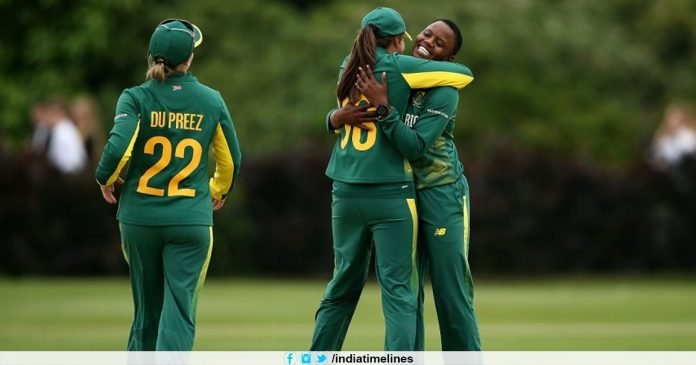 Masabata Klaas Hat Trick Against Pakistan: The second ODI between Pakistan and South Africa women team was played in Poscostrum. In the match, the Pakistan team, batting first, lost all wickets in 42 overs and scored 147 runs. The team scored 146 runs in 5 wickets in 38.1 overs, but She lost 5 wickets to make one run.  Masabata Klass got 3 hat-tricks in 3 consecutive balls and another side, Marizanne Kapp got 2 wickets.
Masabata Klaas Hat Trick Against Pakistan
Good start of Pakistan
After a huge 8-wicket defeat in the first match at the hands of Pakistan Women's (Pakistan) women's team, the South Africa women's team, in the second ODI of the series, came back strongly on the field of Poschstrom and won by 8 wickets.
Opener Nahida Khan (37) and Sidra Amin (25) gave a good start to the Pakistani women team. Both of them added 50 runs for the first wicket in 11.5 overs.
Sidra Amin scored 25 runs in 59 balls with 3 fours, Javira Khan played four fours in 35 balls and hit 20 runs. Captain Bisahah Maruf (49 balls, 32 runs, 4 fours) played good innings. For more details, you can visit www.indiatimelines.com.
Maruf's wicket dropped on the team score of 141 runs. After this the condition of the team got spoiled. In the 39th over, Masabata Klass hit three hat-tricks in 3 balls and complete her hat-trick.
After this, the other two wickets, Sana Mir (0) and Fatima Sana (1) were cut off. In this way, Pakistan's half innings was out in just 1 run. In reply, the South African women's team won 148 wickets in 36.4 overs by losing only two wickets. For Laura, She scored 74 runs off 104 balls with 9 fours, while Lizel Lee made 40 runs in 43 balls with 6 fours. In the first match of the series, Pakistan women's team won 202 balls in 8 wickets.