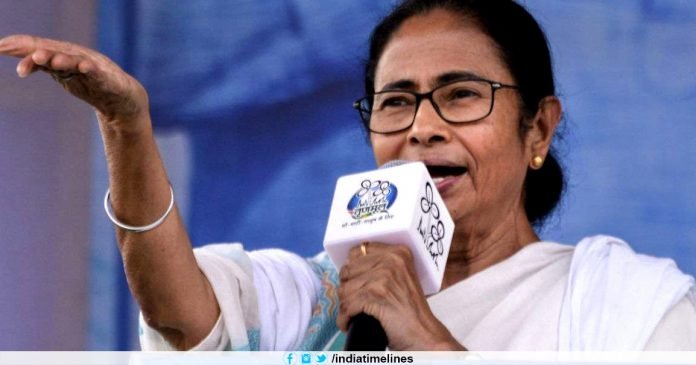 Mamata Banerjee Criticises Center- After a few hours, India is going to create history in the world of space science. Chandrayaan-2 is about to make a soft landing on the lunar surface. After America, Russia and China, India is going to be the fourth country to land on the moon. Along with scientists, the whole country is eagerly waiting for that historic moment, but West Bengal Chief Minister Mamata Banerjee is dragging the Moon Mission of the country into politics. Mamta has alleged that the Modi government is using Chandrayaan-2 to divert people's attention from the country's poor economy.
Mamata Banerjee Criticises Center for Chandrayaan-2
Shortly before Chandrayaan-2's landing on the moon, West Bengal CM Mamata Banerjee has criticized the Modi government at the Center. Mamta Banerjee has said in one of her speeches that the Modi government at the center is promoting Chandrayaan mission as if India had not conducted any space mission before. Mamta said that the central government is using the campaign of Chandrayaan-2 to hide the economic crisis that has arisen in the country.
During her address to the state assembly in Kolkata on Friday, Mamta said that the central government is promoting the Chandrayaan mission as if Chandrayaan was launched for the first time in the country and such missions were started anytime before Narendra Modi came into the government. Not done In the real case, Chandrayaan-2 is a mission that is being used to hide the news of the economic crisis in the country. For more details you can visit www.indiatimelines.com.
On the arrest and jail of former Finance Minister P. Chidambaram in INX Media Corruption case, Mamta said that the law will work in this case but the BJP government should have shown some respect towards him.
Read How Mamata Banerjee Criticises Center
During the discussion on a proposal in the West Bengal Legislative Assembly regarding the National Register of Citizens (NRC), Mamata made a scathing attack on the Modi government. He said that the names of real Indians have been excluded from the NRC list in Assam. He claimed that he had spoken to Bihar Chief Minister Nitish Kumar and also said that he would not allow the NRC. Attacking the Modi government, Mamta said, 'All the pillars of democracy – the media, are following the guidelines of the Judiciary Center. The names of real Indians are excluded from the NRC list. I will use the words of Dr. Manmohan Singh – focus on economy rather than political change. '