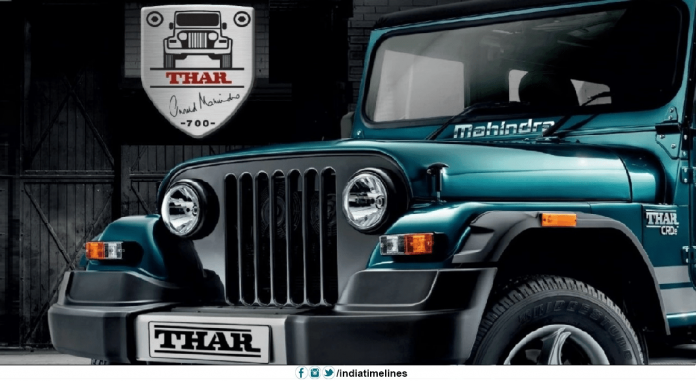 Mahindra Thar 700 Launched in India- Mahindra launched its off-road SUV Limited Edition model of Thar. The price of this SUV coming from Mahindra Thar 700 name is 9.99 lakh rupees. This price is more than 50 thousand rupees than the standard Thar. The company will create only 700 such models, which will be the last 700 units of the current generation Thar because after this the company will launch the new-generation Thar.
Mahindra Thar 700 Launched in India
Mahindra Thar 700 is the most special badge on its front fender. This badge is the signature of Anand Mahindra, Chairman of Mahindra Group. This special edition Thar is available in two colour options including Napoli Black Shade and Aqua Marine.
In addition to the other changes, Special Edition Thor 700 has a black finish, side and bonnet stickers, new stylish 5-spoke alloy wheels and silver finish on bumpers. Talk about the interior, so there are new Leather seat covers with Thar branding, which look great.
In the Special Edition Thar 700, ABS (anti-lock braking system) has also been given in Thar 700, considering the new safety norms implemented from April 1. Apart from this, no other mechanical change has been made in this off-road SUV. Special Edition Thar is available only in the 2.5-liter CRDe 4-cylinder, turbocharged diesel engine. This engine generates 105 bhp of power and 247 Nm peak torque. The engine is equipped with a 5-speed manual gearbox.
Excellent look and strong performance of the SUV is very much appreciated by the Indians. Demand from sub-compact to premium SUVs is increasing. Also, automatic cars are also getting popular. Looking at increasing traffic, people like automobiles, so that there is no scope for repeated gear changes. This is the reason why automatic SUVs are also available in every segment. For the latest updates, you can visit www.indiatimelines.com.
Bookings also started booking a limited edition of Mahindra Thar 700. It can be booked on the company's dealership and from the official website. Explain that Mahindra is in the process of preparing the next Generation Thar The company has also started testing it. The next Generation Thar is likely to be offered in the auto expo of the year 2020.