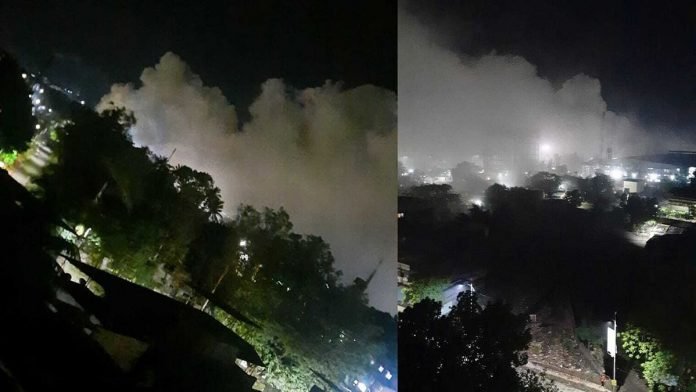 Maharashtra: Gas leak in factory in Badlapur created panic, many people got sick- A gas leak in a factory in Badlapur, Maharashtra created panic on Thursday night. The gas leak incident took place at 10.22 pm on Thursday night. After this, people living nearby started having trouble breathing. The fire brigade was immediately called and it brought the gas leak under control at 11.24 am. The Thane Municipal Corporation said the situation was under control and no one was injured.
It was told that some people even vomited and some people got nauseous. This gas leak happened at Noble India Media Pvt Ltd in MIDC area. The company combines two chemicals, sulfuric acid and benzene hydride, for crude oil in a reactor.
However, due to controlling the required temperature, air leaked from the reactor by mistake. It was told that this gas is not poisonous, but its leakage causes difficulty in breathing. This causes damage to the skin and eyes of the body.
The local resident of Badlapur told that I was working with my colleagues in a nearby factory. Suddenly we started having trouble breathing. Later we came to know that there was a gas leak in a nearby factory. However, due to the gas leak, an atmosphere of fear was created among the people and people started running here and there.
People were informed by the police and fire brigade officials that this gas is not poisonous, then they calmed down. According to the information received, the effect of this gas leak lasted for three kilometres. During this, the health of many people deteriorated, although no condition was critical.
According to the information received, a large number of people were working in the factory at the time of the incident when suddenly they started having trouble in breathing. Later it was found that gas was leaking in the nearby chemical factory.
The incident was caused by a chemical reaction between sulfuric acid and benzyl acid at a dog food company. The entire atmosphere was dim due to the smoke coming out of it. Badlapur fire brigade personnel were informed about it soon after the incident. The incident was brought under control by around 11.30 pm. According to the information received, no pollution control board personnel reached the spot despite the incident. It is worth noting that even before this, there have been reports of gas leakage from this area.