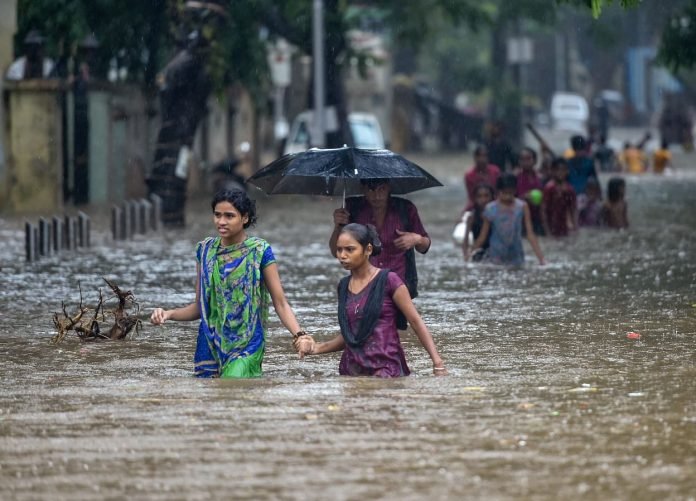 Maharashtra Flood: Devastated in Maharashtra-Konkan-Ratnagiri due to rain and floods- In many districts of Maharashtra including Mumbai, there is a flood-like situation due to incessant rains. Many rivers are also flowing above the danger mark. Raigad and Ratnagiri districts of Konkan region are the worst affected due to rains and floods. So far 8 deaths are being reported in the entire state. Apart from the local administration, teams of NDRF and the Air Force have also been deployed for the rescue. Train services have also been cancelled on many routes due to the floods. At the same time, water has entered the sanctum sanctorum of Bhimashankar, one of the 12 Jyotirlingas located in Pune. 3 people have died while 7 people are said to be injured in the building collapse in Govandi area of ​​Mumbai. Western Naval Command Mumbai has sent food rescue teams and helicopters to assist the administration in the rescue of the people trapped in the floods. Seven naval rescue teams have been sent by road to Ratnagiri and Raigad districts.
Rescue with the help of rope in Kolhapur, stranded people were taken to a safe place
The rain has also affected the Central Railway. Train service between Kasara and Igatpuri has been disrupted due to the fall of hill rocks on the railway track. Train service on Titwala station to Igatpuri and Ambernath to Lonavala route has been disrupted. 33 trains were diverted due to heavy rains in Mumbai. 51 was short terminated. 48 trains were canceled and 14 trains were shortened. Due to the rains, there has been a problem of mud and waterlogging on the tracks.
Water will continue to rain like this for the next 2 days
The water is raining so much that schools and bus stands have been submerged. Only the upper parts of the submerged buses and cars are visible. The Meteorological Department has warned that it will continue to rain like this for the next two days. Rail alert has been issued. People have been appealed to stay at home during this time.
Bridge closed on Mumbai-Goa highway
Water is flowing at its peak in the Kajali and Muchkundi rivers of Ratnagiri. At the same time, the movement of vehicles on the British carpet bridge on the Mumbai-Goa highway has also been stopped from 5 am on Thursday. Due to waterlogging, the Dhaba in Lanja town has also been submerged in water. Not only this, water has also reached the foot over bridge of Lanja city for the first time.
The helicopter will also help
The water level of the rivers has increased due to the rains. Due to this many people are trapped in Chiplun. Coast Guard and customs key boats will be used to rescue them. Ratnagiri district guardian minister Anil Parab said that our first priority is to take people to a safe place. If needed, the help of a helicopter will also be taken.