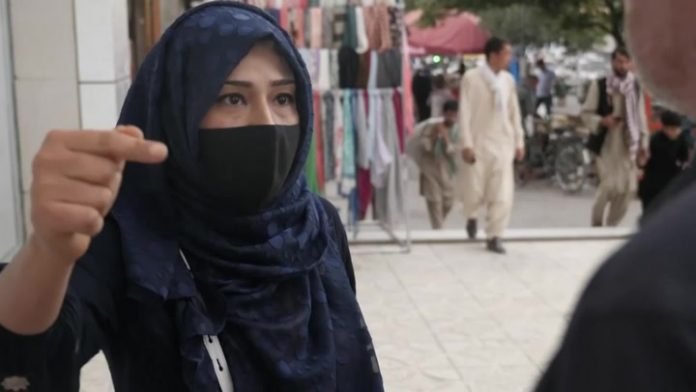 Look at the courage of these women wearing burqa in Kabul – pamphlets waving in front of taliban- After the Taliban occupation in Afghanistan, there is an atmosphere of panic among the people. When President Ashraf Ghani fled the country on Sunday, there was silence in the streets of Kabul. Meanwhile, a video of women performing in Kabul is becoming very viral on social media. A large number of Taliban fighters with heavy weapons are seen around these women.
This was the demand of women
Journalists working in Afghanistan have claimed that the protesting women are demanding that they should also be represented in the government. With the coming of the Taliban government, fear has started to arise about the rights of women. From the time the Taliban took power in 1996 until 2001, the share of women was almost zero. Not only this, women were kept deprived of education and employment even in ordinary life.
Taliban said – there is no discrimination against women
Taliban spokesman Zabihullah Mujahid clarified the Taliban's position on women and said that they are committed to providing women their rights based on Islam. They say women can work in the health sector and other areas where needed. He says that there will be no discrimination against women.
Burqa sales increased in Afghanistan
The sale of burqa in Afghanistan has increased since the Taliban took over. Under Taliban rule, no woman can leave the house without wearing a burqa. Be it a 90 year old woman or a 9 year old girl. A few days back, it was reported that the Taliban had shot a girl near Lashkar Gah for not wearing a burqa to exit.
Taliban talking to different sides
The Taliban is currently in talks with different sides of the country about participation in the government. This terrorist organization claims that it will take all the parties along to end the war in the country. The Taliban said that we have forgiven everyone and will not take revenge on anyone, including former military members and those working with foreign forces. No one will search his house. During the war there was accidental damage to people and families and this was not done intentionally and happened in an uncontrolled condition. If this has happened, it is unfortunate.