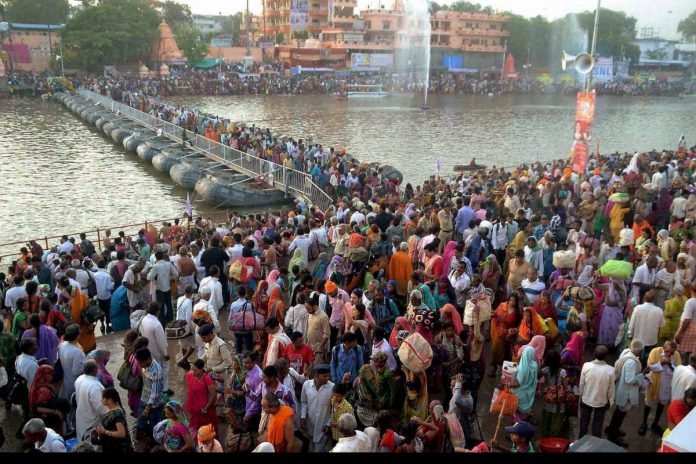 Lockdown will take place after the last royal bath of Kumbh -The situation has gone out of control across the country due to Corona Virus. In such a situation, full lockdown is also being imposed in many states. At the same time, the cases of corona are also increasing in Uttarakhand. The growing cases of corona were also considered to be a reason for the ongoing Kumbh Mela in Haridwar, many times there was a demand for its closure. Now the last royal bath is to be held in Kumbh on 27 April.
The meeting was held on Monday
Now before the last royal bath from Kumbh, the cabinet held a meeting on Monday, in which the lockdown was also discussed along with the increasing cases of Corona. Many big decisions have also been taken in this cabinet meeting. During this time it was said that those who were seen without masks would be challenged up to 500-1000 rupees. Apart from this, there is news that after the Shahi Snan, it has also been decided to put a lockdown in Haridwar.
On the other hand, it has been decided to extend the 2 hospitals prepared under the Kumbh Mela to the next 3 months. In this meeting, the cabinet has termed the free corona vaccine campaign to be important in May and has approved a budget of Rs 450 crore for this work.
Only 100 saints allowed a royal bath
This time the Kumbh period of the Corona epidemic has been reduced. In this last royal bath of today, only 100 sages and saints are allowed to join this bath, while making physical distance. The saints of the akhadas say that only 100 saints will go for the royal bath. Everyone's preparations are complete and during this time the rules of the corona will also be strictly followed.
According to the data released by the ministry on Tuesday morning, 2,771 people have died due to corona infection in the last 24 hours in the country. After this, the number of people who died due to corona infection in the country has increased to 1,97,894.
Increase in those who get vaccinations
While there has been an increase in the Corona figures across the country, the number of vaccinators is increasing every day due to the prevention of this epidemic. So far, 14,52,71,186 people have been vaccinated with Corona across the country. Now the third season of vaccination is going to start from May 1. Under this, every person aged 18 or above will be given Corona vaccine.