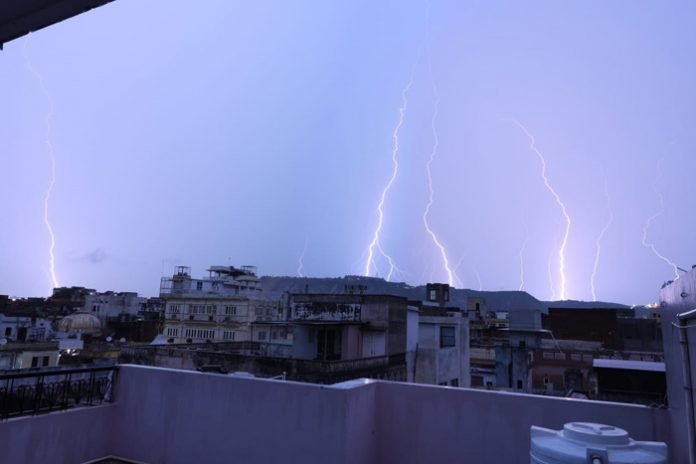 Lightning wreaks havoc on Rajasthan- more than 20 people including 7 children killed: 21 injured- More than 20 people, including seven children, died in separate incidents of lightning in Rajasthan's Jaipur, Jhalawar and Dholpur districts on Sunday. Police said that 21 people, including six children, were also injured in the incidents that took place in different villages of the state. Whereas in Jaipur, more than 35 people have been injured when lightning struck the watchtower in front of the Amer Mahal.
Lightning fell on people taking selfies on the watchtower
At the same time, in a major tragedy in the capital Jaipur, 11 people were killed and eight others were injured due to lightning near the Amer Fort. Most of the dead were youths who had gone to enjoy the pleasant weather on a hill near the fort. Some of them were taking selfies on the watchtower. While many were present on the hill.
11 people who went to take selfies on the watchtower died
Late in the evening when the people present on the watchtower collapsed due to lightning. Jaipur Police Commissioner Anand Srivastava said, "11 people died while eight were injured in the lightning strike." He said that relief and rescue operations were on for the injured.
The medical and Health Minister reached the hospital to see the injured
Medical and Health Minister Dr. Raghusharma reached Sawai Mansingh (SMS) Hospital to take stock of the treatment of the injured in the accident due to lightning in Amer. Chief Whip Dr. Mahesh Joshi, MLA Amin Kaggi were also present. He gave necessary instructions for the treatment of the injured.
CM Ashok Gehlot expressed grief
Expressing grief over the loss of lives due to lightning, Chief Minister Ashok Gehlot said that the loss of lives due to lightning in Kota, Dholpur, Jhalawar, Jaipur and Baran today is very sad and unfortunate. My deepest condolences to the families of the affected, may God give them strength. Instructions have been given to the officials to provide immediate assistance to the families of the victims.
Death of 3 children including 2 real brothers who went to graze goat
Three children, including two real brothers, died due to lightning in Kudinna village of Bari subdivision area of ​​Dholpur district. Police said that the accident happened when some children of the village were grazing goats in the forest. Lavkush (15), Vipin (10), and Bholu (8) died due to lightning, they said.
Governor Kalraj Mishra also expressed grief
Governor Kalraj Mishra has expressed deep sorrow over the death of four children in Kanwas village of Kota and three children in Kudinna village of Bari (Dholpur) due to lightning. The Governor has also expressed condolences by taking seriously the painful death of people due to lightning while taking selfie in the watch tower of Amer. In view of the rainy season, the Governor has also appealed to the people to exercise caution and vigilance for the safety of life and property.