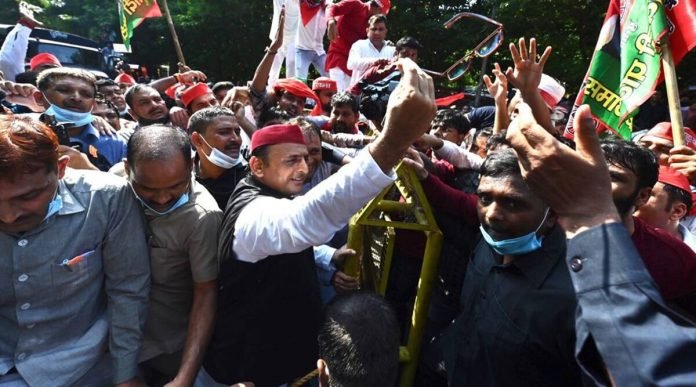 Lakhimpur Violence: Akhilesh Yadav and Shivpal Yadav were detained- SP announced agitation in UP. There has been a ruckus in Uttar Pradesh after 8 people died in a violent confrontation between farmers and BJP workers in Lakhimpur Kheri of Uttar Pradesh. SP chief Akhilesh Yadav, who was sitting on a dharna in Lucknow amid political turmoil, has been taken into custody by the police. On the other hand, the National President of Pragatisheel Samajwadi Party Lohia, Shivpal Singh Yadav, who came out of Lakhimpur by dodging the police, was arrested by the administration near the Engineering College. At the same time, Professor Ramgopal Yadav was taken into custody. After being taken into custody, all the leaders are being taken to the police line. Shivpal Yadav has directed all the district presidents to stage a sit-in at the district headquarters and submit a memorandum to the District Magistrate.
SP President Akhilesh Yadav said that if the car has burnt in front of the police station, then the police must have set it on fire. in order to weaken the movement. Akhilesh Yadav was adamant on going to Lakhimpur Kheri. At the same time, SP workers announced a movement across the state in protest against the detention of Akhilesh Yadav. On Monday, the Samajwadi Party will submit a memorandum through a sit-in demonstration in all the districts of Uttar Pradesh. In the memorandum, there is a demand for financial help of two crores and government job to each deceased family. As well as the demand for the resignation of the Minister of State for Home and the Deputy Chief Minister and the demand to send the culprits to jail immediately under 302.
Anarchists set a police vehicle on fire in Gautampally, Lucknow. Efforts were made to extinguish the fire immediately. Since this incident, leaders of all opposition parties have been trying to reach Lakhimpur Kheri since last night. However no one has been successful so far. One of them is Priyanka Gandhi, the Congress in-charge of UP, who was arrested on the way around 4.00 am today. After Priyanka's arrest, Rahul Gandhi tweeted, boosting the morale of his sister, saying that he knows that Priyanka will not back down.