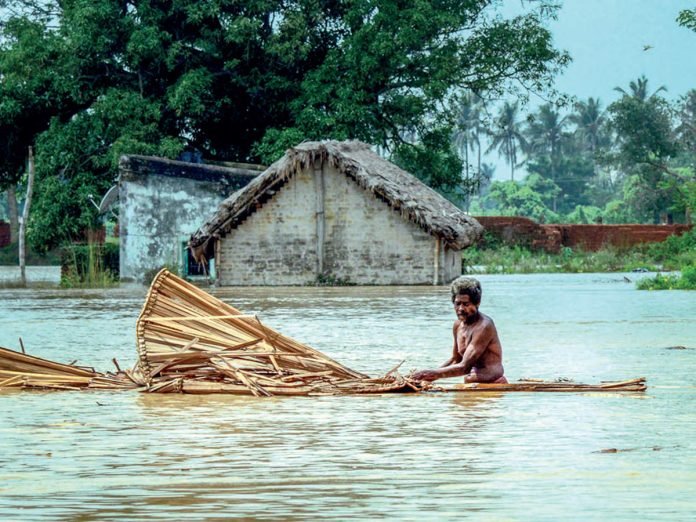 Kushinagar boat rescue: 150 lives flowing in the river overflowing due to floods- A boat with around 150 people got stuck in the floods of the Narayani River in Uttar Pradesh's Kushinagar district on Thursday night. But due to the courage and understanding of the local people, everyone was saved till morning. The administration and NDRF team also helped in rescuing people.
The incident is of the Tamkuhiraj tehsil area where a boat full of about 150 people returning home late in the evening from farming work got stuck in the middle of the river due to technical fault. It is said that the diesel pipe of the boat burst, the diesel got washed away and the engine of the boat stopped.
shouted for help
After this panic spread among the people in the boat. The boat started drifting with the strong current. The people in the boat started making noise, hearing which the local people showed courage and understanding and started bringing the people of small boats to shore. The administration and the villagers had rescued more than half the people trapped in the boat and came out, the NDRF team reached the information and rescued the remaining people safely.
had gone to the farm
According to the information, the farmers of Amwa Khas, Bhagwanpur, Banarha, Sampurnanagar, south side of Buxar village of Tamkuhiraj tehsil cross the river in huge quantity and go to the sand area to see and do their farming. They all finish their work and come back in the evening, in the time of the flood, the work of their travel is done by boat.
There was a fault in the boat
The boat carrying about 150 villagers was crossing the Narayani river from across the river on its way back to their home at around 7:00 pm on Thursday evening due to a technical fault in the stream that lost control of the boat's engine. The boat started swaying with the water, after which the people in the boat started screaming.
The boat sailed 5 kilometres in the strong current
The boat, which was flowing in a strong current, went about 5 km from the fault site and somehow stopped in the river bank in front of Sampoornanagar. After this, the people of the villages, showing courage and understanding, informed the administration but without wasting time started the relief and rescue work on their own. After some time help from the administration also arrived.
By morning all were saved
After the information, the NDRF team reached around 2:00 pm and the villagers trapped in the middle of the river were rescued by playing on their lives. The NDRF team said that around 150 people were trapped, those who have been evacuated safely.