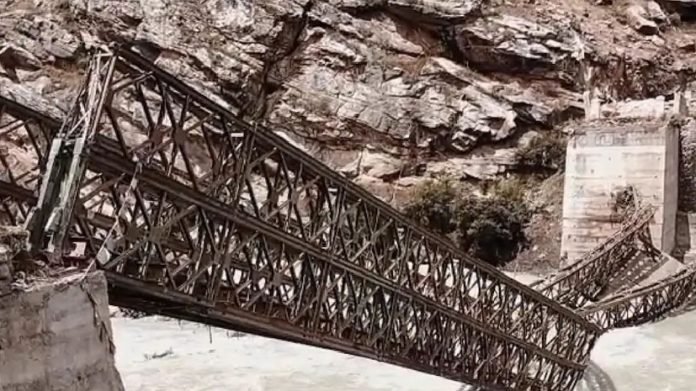 Kinnaur Landslide: A day before the accident- nature had given a warning- A vehicle of tourists coming from Chitkul to Sangla was hit by a landslide due to falling rocks near Batseri in Kinnaur district of Himachal Pradesh. In Kinnaur, where this landslide happened, stones were falling from the hill even a day before. Where a car was shattered and the driver and the tourist saved their lives by running away. Despite this, the administration did not take any lessons from this accident. Even after the Kinnaur landslide, neither the administration nor the police woke up, due to which an accident happened on the very next day and 9 tourists lost their lives. If the administration had banned the movement on this route, then the lives of these people would have been saved, but this route was restored by removing the stones.
After the death of 9 people in the Kinnaur Landslide, now the administration has banned the movement through this route. Dozens of tourists are stuck in Chitkul and Raksham due to the ban. Let us inform you that on Sunday afternoon, many vehicles were hit by a rockfall in Batseri on the Sangla-Chitkul road. In this accident, a heavy stone fell on a vehicle full of tourists, killing 9 people in it, while three people were seriously injured. The injured have been referred to CHC Sangla.
Villagers saved people's lives
When this incident happened, dozens of villagers and youth of Batseri, Raksham, Themgarang and Sangla Panchayat reached the spot and got involved in the rescue operation. Police, Home Guards, Disaster Management and rescue teams of JSW Project carried out the rescue operation for about four hours and were successful in evacuating the dead and injured from the accident site. Despite the danger of rocks, the villagers involved in the rescue made the rescue operation successful by risking their lives.
Announcement of compensation to the families of the deceased
PM Modi has expressed condolences to the dead and announced a compensation of Rs 2 lakh each to the family of the deceased. The state government has also announced a compensation of Rs 4 lakh each for the next of kin of the deceased. Along with this, 50-50 thousand rupees compensation has also been announced for the injured.