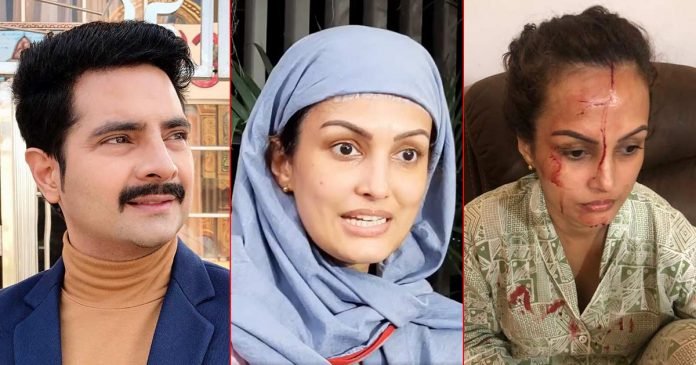 Karan Mehra's wife Nisha Rawal wept in front of the media to tell the truth of the 'creepy night'- There has been such an earthquake in the married life of 'Yeh Rishta Kya Kehlata Hai' fame Karan Mehra and Nisha Rawal that everyone is shocked. This couple, who gave couple goals to the fans, has now stood at such a point, where there is no point in looking back. Nisha Rawal accused Karan Mehra of assault and now he has revealed many secrets by coming in front of the media.
Nisha Rawal came in front of the media
Nisha Rawal decided to open the pole of their relationship by coming in front of the media. Nisha Rawal took this decision only after doing a lot of courage.
Karan Mehra raised his hand on Nisha Rawal
Nisha Rawal had lodged a complaint with the police against Karan Mehra last night. Karan was also taken into police custody after Nisha's complaint. Later he came out on bail.
Nisha Rawal spoke on Karan Mehra's extramarital affair
Nisha Rawal has also said that Karan Mehra is having an extra-marital affair, due to which he misbehaves with her.
Karan Mehra of Yeh Rishta Kya Kehlata Hai fame
Karan raised his hand
Talking to the media, Nisha Rawal has told that Karan has raised his hand on her many times, it is a very minor thing for her. According to Nisha, Karan has punched her many times and due to this, marks have also appeared on her face. Asked why she had been facing all this for so long? Nisha told because she was in love with Karan. She said, 'I still love him. I was a fool, it's all a slap on my face because I was not ready to part ways with him. Nisha cries while telling this.
Nisha Rawal has told many such things about Karan Mehra, which will make anyone's hair stand on hearing. Nisha Rawal says that Karan often used to abuse her and raise her hand.
During the conversation with the media, Nisha has shown two pictures of her, in which in one photo a scar was seen on her eye and in the second picture her head was seen bleeding. He said, 'All this is not easy for me, I also have to go in front of the camera. I do not want that one day my child will grow up and say that mother, you should have stood up for yourself. I do not want to set a wrong example in front of him '.
Karan Mehra has also messed with Hina Khan
There was a lot of rift between Hina Khan and Karan Mehra during the serial 'Yeh Rishta Kya Kehlata Hai'. Karan has also messed with Hina.
Nisha Rawal became a mother in 2017
In the year 2017, Nisha Rawal gave birth to a son. Nisha and Karan together named their son Kavish. After the birth of the son, Nisha started hoping that her life would improve.
Let us tell you that Karan has denied all the allegations against him. During a conversation, Karan told that what had happened, the fight between the two reached the police station. Karan admitted that all is not well in their relationship for some time now. Karan told that for a long time we were thinking of separating but the matter would reach the police, it was not even anticipated. Karan said that Nisha's brother Rohit Sethia had also come to suggest things between us. Nisha and her brother asked for an alimony amount but it was so much that I could not give it. At 10 o'clock in the night again we had a talk about this. Even then I clearly said that I cannot do this. After that when I went to the room, Nisha came from behind. I was talking to my mother and she started abusing me. shouted loudly and spat at me, after that I asked him to leave the room.