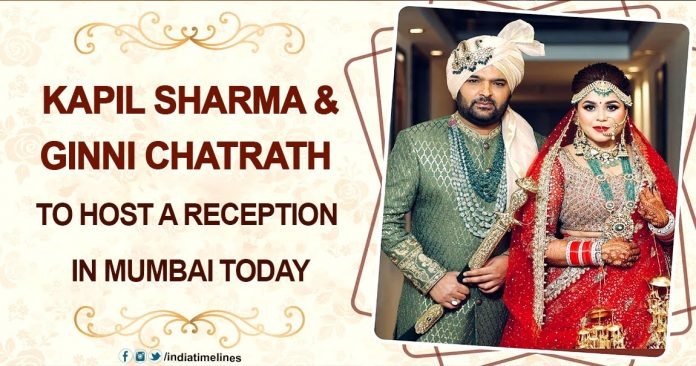 Kapil Sharma and his wife Ginni Chatrath to host a reception in Mumbai today: Kapil Sharma has recently tied up with Ginni Chatrath in connection with marriage. He was away from social media for a few days, but on Sunday he shared a beautiful picture with Ginni.
Kapil Sharma and his wife Ginni Chatrath to host a reception Today in Mumbai
Comedian  Kapil Sharma was tied in this month's marriage with Ginni Chatrath. After this, he also gave a reception party for friends and colleagues. Kapil was away from social media for some days, but on Sundays, he shared a picture of himself and Ginni on Instagram. In this, the groom King Kapil is appearing very happy. Ginni is also looking very beautiful. Kapil Industries are keeping a reception party today for their friends.
Kapil's reception in Mumbai will be held in JW Marriot and it is expected that it will see the presence of big names of Bollywood. At its peak, many stars like The Kapil Sharma Show, Shahrukh Khan, Amitabh Bachchan, Salman Khan participated in the show. It has been reported that next season of popular chat show will be produced by Salman. Ranveer Singh, Sarah Ali Khan, and Rohit Shetty have already recorded an episode for the new season with Kapil. In the early episodes, Salman, along with his father and brothers, is also expected to include Simba's team. Episodes of episodes broadcast on December 29 are already online.
As long as we can not wait for the pictures and updates of the reception, Kapil will come back with the Show 2 Kapil Sharma Season 2, which will be broadcast from 29 December to 9:30. The producers first released the show's promo with Kiku Sharada, Rohit Shetty, and Ranvir Singh. In the promo, Kiku takes a fun jib during the rest of his year.
Stay with us for all updates from Kapil Sharma to the wedding reception at the show.