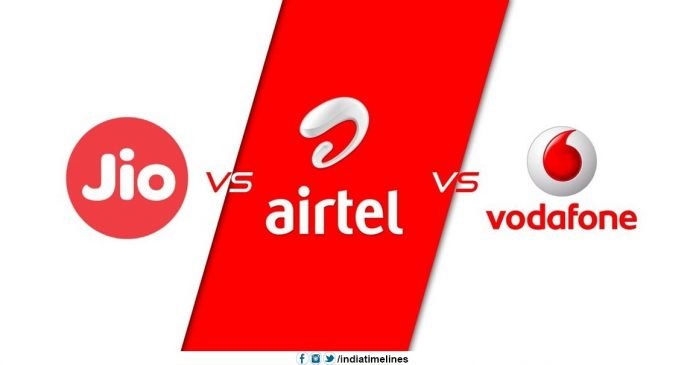 JIO is giving tough Fight to Airtel and Vodafone- After Airtel-Vodafone, Reliance Jio has come up with great offers for customers recharging. Reliance Jio is offering free Ajio coupon to recharge its prepaid customers for Rs 198 and Rs 399. The advantage of this offer can be both new and existing live customers. These offers are only for 3 June to 14 July 2019.
Recharge of Rs. 198
All Customers will get Ajio Coupon of Rs. 198 for recharging Reliance Jio of Rs. 198. Ajio is Reliance's shopping website, on which customers can buy clothes and accessories. This coupon can be redeemed five times but users will be able to use coupons only once in a month. You will be able to take advantage of it when shopping for Rs 999. To take advantage of this, the recharge will be done till July 14.
JIO is giving tough Fight to Airtel and Vodafone
Recharge of Rs 399
Customers will get Ajio coupon of Rs 399 for Geo prepaid recharge of Rs 399. This coupon can also be redeemed five times and it can be redeemed once in a month. To use it, a minimum of Rs 1,399 will be recharged.
Vodafone is also giving competition to Airtel and Jio
JIO is giving tough Fight to Airtel and Vodafone- Competition has increased in this sector since joining Jio's telecom sector. Since then companies have been offering more than one recharge plan to attract customers. Vodafone comes with a prepaid plan of 299 rupees with a recharge plan of 299 rupees (Vodafone).
Plan of 299
At Vodafone's new 299 prepaid plan, customers will get 70 days validity. During this time, customers will be able to take advantage of free Unlimited Local calls, STD and roaming calls. It will get 70 days of validity. 3GB of data will also be available during this time. For the latest updates, you can visit www.indiatimelines.com.
The new plan of 229
229 will get 2GB of data daily with 28 days of validity. Apart from this, unlimited voice calls and 100 SMS will be available. Earlier, the company had offered a plan of Rs 139. In it customers were offered Unlimited Calling with 5GB of data. The validity of this plan was also kept for 28 days.
The plan also brought for the youth
Vodafone has brought 'Vodafone Youth Offer' for customers between 18-24 years. Under this, you will receive an annual subscription of Amazon Prime for 499 rupees. While Amazon primes need to spend Rs 999 every year If you want to take advantage of Amazon Prime for Rs 499, you can take advantage of Vodafone offers.