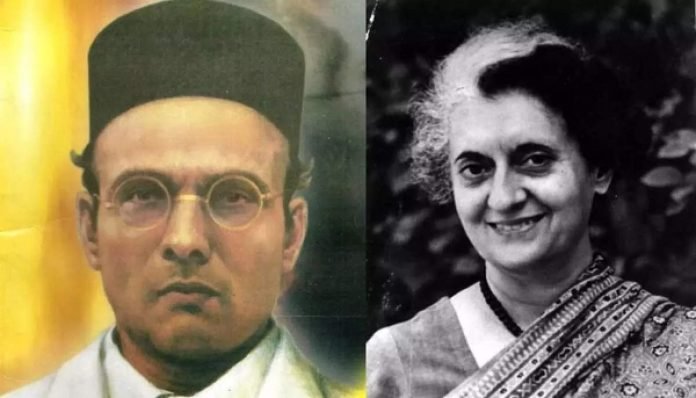 January 25 1920: Bapu's letter to Savarkar's brother – political temperature raised after 101 years- The claim made by Defense Minister Rajnath Singh on Tuesday about Veer Savarkar has created a political storm. Singh said that Savarkar had filed a mercy petition before the British at the behest of Mahatma Gandhi. Rashtriya Swayamsevak Sangh chief Mohan Bhagwat was also present in the program in which Rajnath made this claim. He said that as part of a well-thought-out conspiracy, "a campaign to defame Savarkar was carried out". On Singh's claim, many parties, including the Congress, the Left, accused the central government of 'writing history in a whimsical manner'.
A little fuss and that letter from Bapu came to the fore
Historian Dr. Vikram Sampat justified Singh's claim, while Irfan Habib said that no evidence exists for this claim. Sampath said that Gandhi had advised the Savarkar brothers to file a petition in 1920. To this, former Union minister and Congress MP Jairam Ramesh said Singh had "exaggerated" Gandhi's letter dated January 25, 1920.
After some time, he tweeted the entire letter that Bapu had written to Savarkar's younger brother Narayan Savarkar. The senior Congress leader agreed with Ramesh and took a jibe that "some RSS 'historian' must have briefed him (Rajnath)." CPM leader Sitaram Yechury tweeted that 'Savarkar's mercy petitions are in 1911 and 1913. Gandhiji enters the Indian freedom struggle in 1915. Such tampering of facts cannot be misguided.'
What did Savarkar's brother say to Bapu?
Dr ND Savarkar wrote a letter to Gandhi on 18 January 1920. In it he says that 'It is clear that the Government of India (British) has decided not to release them (Savarkar brothers- Ganesh and Vinayak). Please tell me what to do in this situation. He (my brother) has already served a rigorous sentence of more than 10 years in Andaman and his health has deteriorated. His weight has come down from 118 to 95-100.
What did Gandhi write in response?
Bapu sent his reply on January 25, 1920. He writes, 'Your letter has been received. It's hard to give you advice. Nevertheless, I suggest that you prepare a small petition in which the facts of the case are brought out to make it clear that the crime committed by your brother was purely political. I am delaying this suggestion so that it will be possible to focus people's attention on the matter. Till then, as I have told you in a letter earlier, I am going my own way in this matter.'
Rajnath on target of opposition after a claim on Savarkar
Rajnath described Savarkar as a staunch nationalist and India's first military strategist in the 20th century. During the release of a book on Savarkar, Singh said he gave the country a "strong defense and diplomatic principle". Singh is on the target of the opposition because of his statement. AIMIM chief and Lok Sabha MP Asaduddin Owaisi said that 'BJP and RSS are sending a message to the country that the day is not far when Savarkar will be declared the Father of the Nation in place of Mahatma Gandhi'.