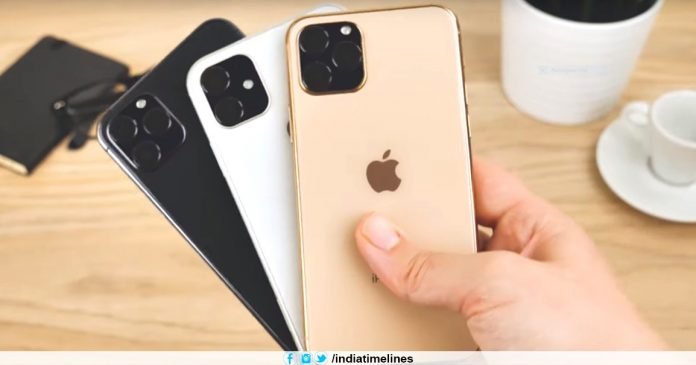 iPhone 11 Release Date, Specs and Price- Today is a special day for iPhone lovers across the world. Today Apple is going to unveil its new iPhone. Apple's launch event is held at the Steve Jobs Theater in California. The launch event will start at 10:30 pm Indian time. It is expected that Apple can launch iPhone 11 Pro and iPhone 11 Pro Max in addition to iPhone 11 at the event today.
Not only this, sources believe that Apple's event is taking place at a very large level and today many more products can be launched in addition to new iPhones. So let's know everything about this Apple event of today.
iPhone 11 Release Date, Specs and Price
can be equipped with triple rear camera iPhone 11 Pro Max
The iPhone 11 Pro Max is being described as the successor to the iPhone XS Max. It is expected that it will have features like a powerful processor and wireless reverse charging with the triple rear camera.
IPhone 11 Pro will have a smaller screen
Today Apple can also launch iPhone 11 Pro. It will have all the features of the iPhone 11 Pro Max, but its screen may be slightly smaller than the iPhone Pro Max.
IPhone 11 will have dual rear camera
iPhone 11 is being described as the successor of iPhone XR launched last year. This will be the initial model of the iPhone series to be launched today. In this, the company can provide LCD display with dual rear camera.
Apple Watch Series 5 will come in new casing
It is expected that Apple will upgrade its old Watch Series 4 in today's event. For this, the company can introduce titanium and ceramic casings. Not only this, with this casing, the company can launch it under the name of Watch Series 5.
According to the new Airpods
sources, Apple can present new Airpods in this special event today. The special thing about these AirPods will be that they will come with Active Noise Cancellation Support.
16-inch MacBook Pro
This will be Apple's largest laptop ever. This year the MacBook has been in the news. In such a situation, there is great hope that Apple can launch it today.
IPads with dual lens rear cameras
In 2015, Apple launched new iPads with new iPhones. There has been a lot of talk about Apple's upcoming iPads for the last few days. If the rumors are to be believed, the app can also launch new iPads today. The most important thing about the new iPad is that it can come with a dual rear camera setup.
iOS 13 operating system – iPhone 11 Release Date, Specs and Price
Apple has also made the latest software available with the new iPhone. In view of this, it is being said that today Apple will also launch its iOS 13.
New OS for MacBook
Like the iPhones, Apple can launch the new Apple Mac OS Catalina in addition to launching the new MacBook Pro. For the latest news, you can visit www.indiatimelines.com.
New OS for Apple Watch and iPad
Apple can launch new WatchOS 6 for Apple Watch in today's event. With this, the company is also going to release a new OS for iPads for the first time today.