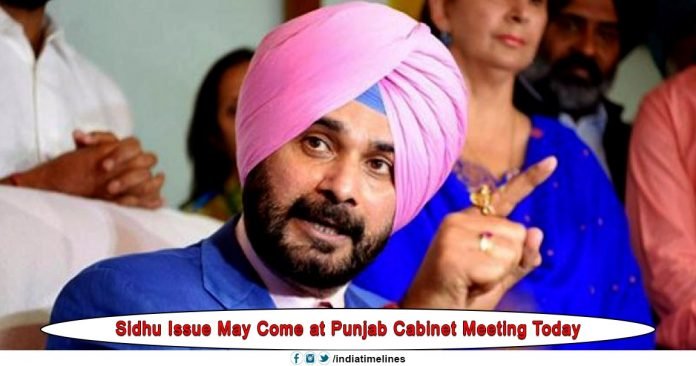 Sidhu Issue may come at Punjab Cabinet Meeting Today: On the statement of Navjot Singh Sidhu, the battle in Punjab Congress has begun. Regarding the remarks against Chief Minister Amarinder Singh (Navjot Singh Sidhu), Punjab's senior minister demanded resignation from Navjot Singh Sidhu's Cabinet on Saturday. A day after the comment, the minister has made this demand. On the other hand, Sidhu has withdrawn his remarks in Hyderabad, in which he had said that he (Sidhu) had participated in the foundation stone function of Kartarpur corridor on the request of Congress President Rahul Gandhi.
Sidhu Issue may come at Punjab Cabinet Meeting Today
HIGHLIGHTS
The meeting is organized to be held at Chief Minister Capt Amarinder Singh's office residence
Sidhu is not supposed to attend the meaning as he is away in Rajasthan
Several Punjab ministers have demands Sidhu's resignation
Sidhu visited Pakistan on November 28 on its prime minister, Prime minister of Pakistan personally invited, as he puts, attend the groundbreaking ceremony of Katarpur corridor.
While responding to a query on Friday about Captain declined the invitation to Pakistan and telling him that he too should not go there for the ground-breaking ceremony of Kartarpur Corridor.
WHICH CAPTAIN ARE YOU TALKING ABOUT?
Dharamsot said, 'It seems that Sidhu Sahib has forgotten that he is a minister. They should understand that they are not doing any comedy shows here. They should learn to respect elders and apologize to the Chief Minister. Satguru Rajinder Singh Bajwa continued attacking Sidhu on Sunday also said that Sidhu's movements and physical gestures were not appropriate about the Chief Minister, he should apologize. He also said that Sidhu has a moral duty to resign from the post if he is sceptical of Amarinder's leadership.
Sources said that this issue can be discussed in the Cabinet meeting on Monday.