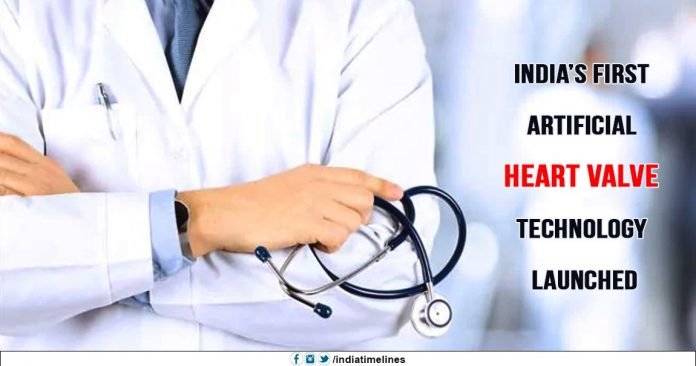 India's first artificial heart valve technology launched: According to the Make In India initiative, Global Medical Equipment Manufacturer Merrill Life Sciences launched its first indigenously designed and manufactured artificial aortic valve for patients who are high risk or willing to undergo open heart valve replacement surgery. Are not there.
India's first artificial heart valve technology launched
Transcatheter Aortal Heart Valve Replacement (TAVR), which will be sold under the brand name "Mywal", is a minimally invasive procedure in which the doctor holds an artificial valve in the patient's diseased valve through a catheter inserted through the phenological artery. The artery in Groin).
Commenting on this permission, Sanjeev Bhatt (Vice President-Corporate Strategy, Meril Life Sciences) said, "Meril is always devoted to the design and development of novel, clinically relevant, cutting-edge and best-grade equipment, "to reduce human suffering and to improve the quality of life. Indigenous Developed Male Transaccharator Heart Valve Technology Launching is a claim of this fundamental belief. For us, it was available in the country to make this therapy commercially available. This is the proud moment of being the first Indian company. "
Bhatt said that clearance is based on successful results from clinical trials conducted in India, including 14 hospitals – Fortis and Medanta – The Medicity and Earl Hospital, Jaipur.
"The development of this valve, which is used in the form of non-surgical through the catheters, is a major achievement for the 'Made in India' initiative that such an important R & D happened in India from one such region. As of now, only US equipment has been dominated, "said Principal Investigator Ashok Seth, president of Fortis Escorts Heart Institute, to IANS.
"The first patient receiving the Mywal has completed 1.5 years and is living a symptom-free productive life. The valve was effective in reducing the symptoms of the patient and reducing the loss of mortality and hospitality with aortic stenosis," Intervention Cardiologist Ravinder According to Singh Rao on Infinity.
"The regulatory clearance of the indigenous Maya provides real hope for thousands of patients with aortic stenosis in India and Asia, which was considered risky for surgery and now with a non-surgical catheter-based treatment, safe transcatheter aortic valve replacement Can pass.".