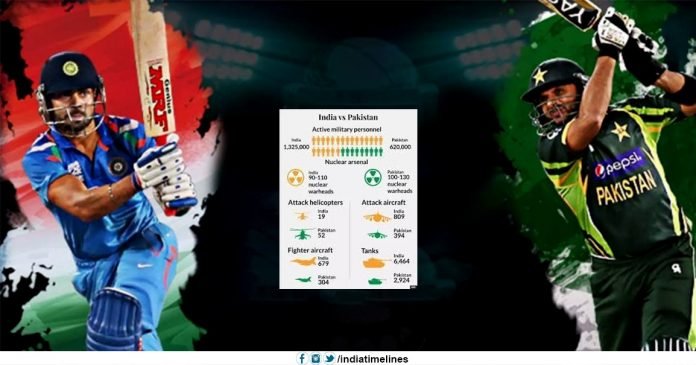 India vs Pakistan World Cup 2019- India and Pakistan will compete in the World Cup on Sunday. Cricket fans of the world will have eyes for this much-anticipated match of the World Cup being held in Manchester. A match between India and Pakistan is anywhere but the thrill is at the peak. If we talk about these two teams, then no one is seen back. Pakistan has experienced and capable bowlers like Mohammad Aamir and Wahab Riaz. Aamir has captured the rhythm from the match against Australia. Here, India has a strong pacer like Jaspreet Bumrah, Bhubaneswar Kumar and Mohammed Shami.
India vs Pakistan World Cup 2019
Bumrah is considered as a speciality of death over. These three bowlers, including slow ball, yorker, bouncer, have a crush on the Pakistani batsmen. This time the Indian pace appears to dominate domestically Pak Pace.
Apart from them, Hasan Ali of Pakistan is also a good bowler and disturbs the batsmen. In the last match against Australia, they showed the maximum from the bat. In 51 ODIs, Hassan has hit 80 wickets. He has played 4 ODIs against India and has taken 4 wickets in total.
Bumrah took four wickets in 4 ODIs against Pakistan while Bhuvneshwar shocked 14 wickets in 9 matches. Shami has 5 wickets in 3 matches against Pakistan. At the same time, Mohammad Aamir played 6 matches against India and took 5 wickets. Wahab Riaz took 9 wickets in the 6 ODIs against the Indian team.
Australia vs Pakistan: Australia beat Pakistan by 41 Runs
Australia and Pakistan compete in the 17th match of the World Cup. In this match, Australia defeated Pakistan by 41 runs. Pakistan won the toss and chose to bowl. Earlier, Australia scored 307 runs. Pakistan, chasing the target, could score only 266 runs.
Warner batted for Australia's highest score of 107 runs. Captain Aaron Finch scored 82 runs in his innings, due to which the score reached 307. Mohammad Amir's took 5 Shocking wickets. After this, Pakistan's start to bat was not good at the start. He missed the first wicket on the second and then the second wicket on 56 runs. After this, the team could reach just like 266 runs. For the latest updates, you can visit www.indiatimelines.com.