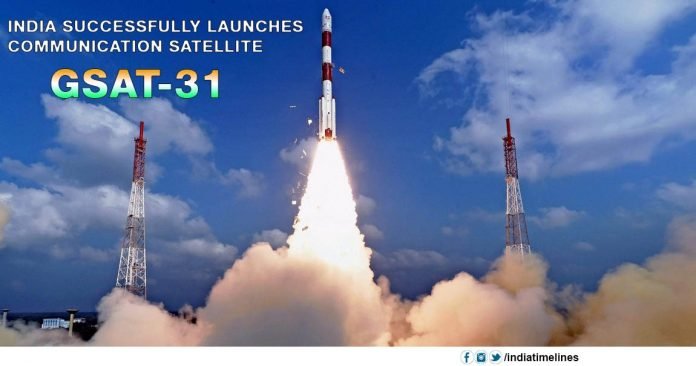 India successfully launches communication satellite GSAT-31 from the European Space Center located in French Guiana. In the coming days, this satellite will replace INSAT- 4CR.
French Guiana / New Delhi
The 40th communications satellite of the Indian Space Research Organization (ISRO) GSAT-31 was successfully launched on Wednesday. This launch took place from the European Space Center located in French Guiana on Wednesday night at 2:30 p.m. Indian time. After 42 minutes of launch, the satellite was installed in Geostationary transfer orbit at 3 o'clock 14 minutes. This launch was made from the Ariane-5 rocket of the Arianespace.
India successfully launches communication satellite GSAT-31 | ISRO
GSAT-31 weights 2535 kg and the age of this satellite is 15 years old. This will replace India's old communications satellite INSAT-4 CR. S Pandian, director of Satish Dhawan Space Center, presently from ISRO in French Guiana said about this, "There was no problem in the launch. GSAT-31 will replicate the INSAT satellite. I wish to congratulate the officials of Arianespace and ISRO for the success of those officers who are present here in Guiana since the beginning of January.
'Arianespace will launch GSAT-30 in July'
S Pandian also informed that Arianespace will launch another communication satellite GSAT-30 in June-July this year. In this time with Arianespace and ISRO, Pandiyane said, 'We have a connection with Arianespace since 1981 when Arian Flight Lo3 launched the experimental satellite APPLE of India.' At the same time, Stephen Israel, CIO of Arianespace, said, "This is the 23rd successful campaign launched by Ariane Michaels for India. In December last year, we launched GSAT-11, India's heaviest satellite, which weighed 5,854 kilograms. "
Even before launch, ISRO chief Sivan said, "GSAT-31 will replace the existing Satelite INSAT-4 CR, which is expiring soon. However, the weight of the GSAT-31 is not very high, but we took help from Arianespace because it was done in a hurry, which would not interrupt the communication service. The GSAT-31 could only be launched from the GSLV Mach-3 rocket, but this rocket is already booked for Chandrayaan-2. We did not have any extra rocket for GSAT-31. '
ISRO | GSAT-31 will be used in these works, India successfully launches communication satellite GSAT-31
ISRO said that GSAT-31 will be used in VSAT Network, Television Uplink, Digital Satellite News Gathering, DTH Television Service and many other services. Apart from this, this satellite will provide wide beam coverage for the convenience of communication over the Arabian Sea, the Bay of Bengal and the vast ocean of Indian Ocean, with the help of its extensive band transponder.