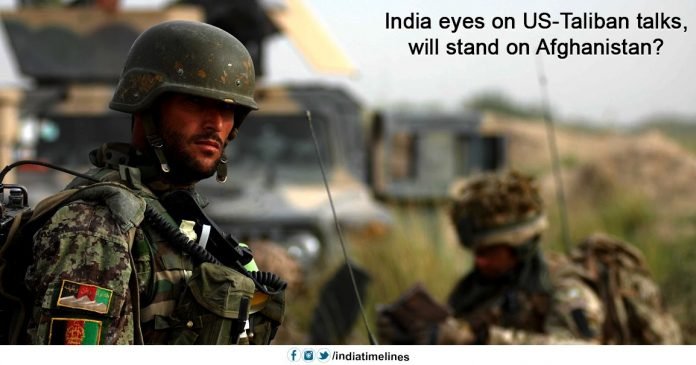 India eyes on US-Taliban talks: America's dialogue with the Taliban is a new uncomfortable situation for India. Army chief General Rawat has said that talks with the Taliban are important, so the foreign ministry is not saying anything openly so far. Pakistan has already been denying the presence of India in Afghanistan. India has not yet opened its cards on this issue.
India eyes on US-Taliban talks, Indrani Bagchi, New Delhi
The round of dialogue between the US and the Taliban in Doha is in progress. However, this news for India is going to be a bit difficult and now India will have to review its stand on the Taliban itself. Sources linked to the Taliban say that talks are in the direction of progress in a significant way.
According to the reports quoted by Taliban sources, Mullah Abdul Ghani Baradar, the main reason behind the progress of US-Taliban talks. Sources say that Bardar has been appointed as the main mediator for talks between the United States and the Taliban. Assuming reports, there has not yet been any consensus on any issue during the negotiations.
India eyes on US-Taliban talks, will stand on Afghanistan?
According to sources, this dialogue is important because the parties appointed by the US, Khalilzad, raised the issues of the issue of seizure in prominence. In the 18 months of the United States, the assurance has been given to withdraw the troops and not to support the Taliban for terrorist organizations. The Taliban have assured organizations not to help other global terrorist organizations with organizations such as Al Qaeda and ISIS.
Khalilzad denies the situation by refusing to negotiate with the Taliban's alleged interim government. He tweeted that the emphasis on intra-Afghan dialogue was the objective. Zalmay Khalilzad wrote on the tweet, "It cannot say what has happened before  unless something actually happens." The global bustle of talks with the Taliban is very uncomfortable for India. There has not been any progress in this direction so far and no such effort is taking place. However, Army Chief General Bipin Rawat said, "India should also talk to the Taliban because the rest of the country is doing it today."