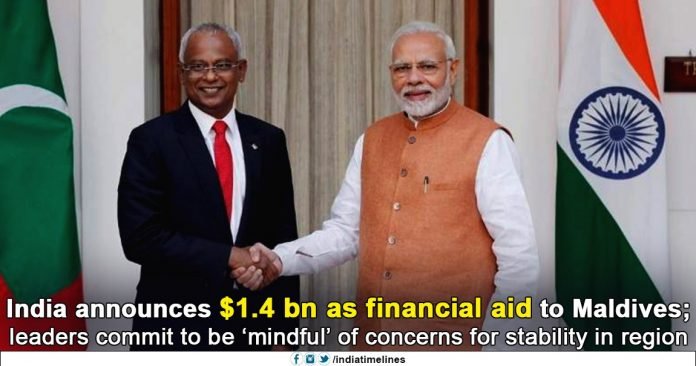 India Announces $1.4 Billion As Financial Aid To Maldives; Prime Minister Narendra Modi has announced the help of the Maldives 1.4 million dollars (about Rs 10 thousand 17 crores) on Monday.
PM Modi announced this after interacting with the President of Maldives Ibrahim Mohammad Solih. There was the talk of enhancing security cooperation between the two Countries in the India Ocean. The two countries also stamped 4 agreements, in which a visa is related to facilitation.
India Announces $1.4 Billion As Financial Aid To Maldives
In the presence of Solih, PM Modi said in his press statement, "Both the Countries talk in a cosmopolitan environment. Both Countries have agreed to further strengthen relations.
He said that the security interests of both countries were discussed and both countries agreed to increase defence cooperation in the India Ocean. Modi said, "We will not allow people to use their country for any activity which will harm each other." he said that we want better relations with the Maldives. There are many golden opportunities for Indian companies in the Maldives.
President Solih has said that the Maldives and India have signed agreements to cooperate on trade, health, and defense. Officials said that India will help improve Maldives's security through joint patrol as well as through air surveillance. The biggest concern of India is that China's huge diplomacy in this area was aimed at securing the checkpoint on an island of Maldives.
Prime Minister Modi said that he had discussed regional security with President Solih and both agreed that do not allow each other's fields to be used against the other. Earlier, there was a discussion between Foreign Minister Sushma Swaraj and Solih. In this, the two leaders discussed bilateral talks and regional issues of each other's interests.
India Announces $1.4 Billion As Financial Aid To Maldives; The relations between India and Maldives were spoiled at that time when former President Abdullah Yameen had imposed an emergency and India had opposed it. India had demanded to work according to the elected government and release the arrested leaders.