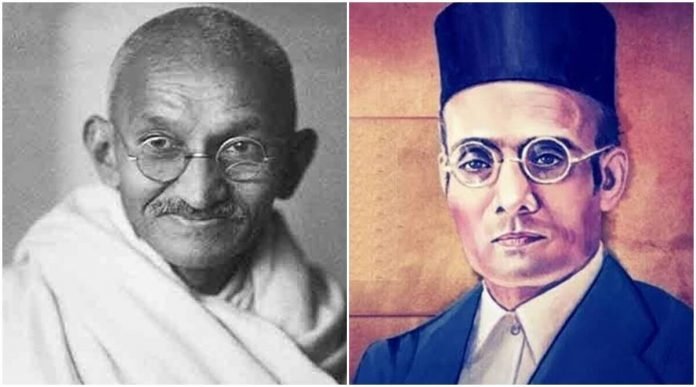 How true is Rajnath Singh's claim? Relationship between Mahatma Gandhi and Vinayak Damodar- 'There is a lack of correct information about Vinayak Damodar Savarkar.' It is clear from what RSS Sarsanghchalak Mohan Bhagwat and Defense Minister Rajnath Singh said on Savarkar on Tuesday that the BJP is trying its best to fill that gap. The two were speaking at the launch of the book 'Veer Savarkar Who Could Have Prevented Partition' by Uday Mahurkar and Chirayu Pandit.
Singh talked about the relationship between Mahatma Gandhi and Savarkar. His claim that Savarkar wrote the mercy petition at the behest of Gandhi, may elicit a sharp reaction from opposition parties, especially the Congress. Apart from political allegations and allegations, let us understand how was the relationship between Gandhi and Savarkar. Some both from his own writings and some from the point of view of historians.
'A campaign was launched to defame Savarkar'
Savarkar had filed mercy petition at the behest of Gandhi: Rajnath
Savarkar was 'Brother' and Gandhi was 'Mahatmaji'
Gandhi and Savarkar did not like each other, that is wrong. Gandhi has addressed Savarkar as 'brother' on several occasions. At the same time, for Savarkar, Gandhi was 'Mahatmaji'.
According to Mahurkar and Pandit's book, there were only two meetings between the two leaders, albeit in a warm atmosphere. Despite their ideological differences, there was no difference of opinion among them.
Gandhi strongly advocated the release of Savarkar and his elder brother Ganesh Damodar Savarkar from the Andaman jail. He praised their sacrifice and the spirit of nationalism.
What has Gandhi written on Savarkar?
In December 1919 there was a royal proclamation that released many political prisoners, except the Savarkar brothers. Gandhi wrote in 'Young India' (Mahatma Gandhi: Collected Works, Volume 20, page 368) on 26 May 1920. He writes, 'Due to the Government of India and the provincial governments, many prisoners have got the benefit of royal pardon. But there are several prominent 'political criminals' who have not been released yet. I count the Savarkar brothers among them. They are political criminals like those released in Punjab and even five months after the publication of the declaration these two brothers have not got their freedom.
After the death of Savarkar's elder brother, Gandhi called him 'brother' in a letter (Collected Works of Gandhi, Volume 86, p 86) from Sevagram on 22 March 1945. Gandhi wrote, 'Brother Savarkar, I am writing this letter after hearing the news of your brother's demise. I had tried a little for his release and since then I was interested in him. Where do you need to console? We ourselves are in the clutches of death. I hope his family is fine. Yours, MK Gandhi.
In another letter (Collected Works of Gandhi, Volume 38, page 138), Gandhi wrote, 'I will do what I can for political prisoners. It has never happened that I have remained silent because of fear. With regard to political prisoners who are in jail for murder, I would not consider it appropriate to do anything for them. I will not argue the point. Yes, I will do whatever I can for Bhai Vinayak Savarkar.