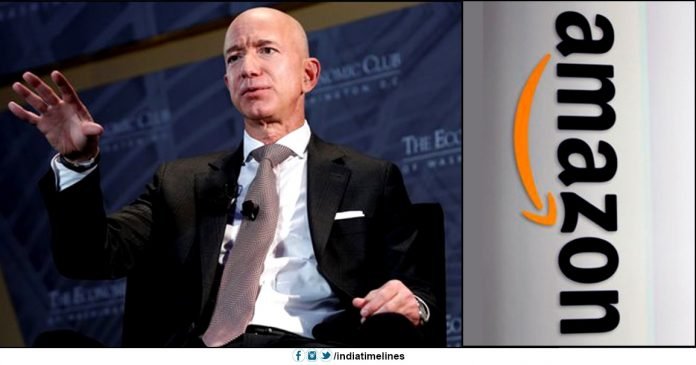 Jeff Bezos, the world's richest billionaire and owner of the Amazon company, is about to embark on a space journey, bidding for the seat next to the spaceship on which Jeff will depart. In this, a person has been selected to travel with Jeff Bezos during the first space journey of American company Blue Origin. This person has paid $ 28 million, or about Rs 205 crore, for space travel. However, the name of this person has not been disclosed yet.
The auction went on for 10 minutes to choose the man to travel to space with Jeff Bezos. It was attended by 7600 people from 159 countries of the world. The winner, who went with Bezos in his New Shepherd rocket, was decided during the last three minutes of bidding. The winner paid more than 2 billion rupees, or $28 million, to book a ticket with Bezos
view of earth from space
Blue Origin owner Bezos wrote on Instagram about his space travel, 'Looking at Earth from space changes you, changes your relationship with the planet. I want to board this flight because it is something that I have always wanted to do in my life. It's a thrill. This is very important for me. July 20 is the same day that America's Apollo 11 mission set foot on the lunar surface.
Blue Origin's New Shepherd Capsule Fully Automatic
The New Shepherd capsule of Bezos' company Blue Origin is fully automated. It doesn't even need a pilot. Bezos's New Shepherd rocket is designed in such a way that if an emergency occurs, the capsule will detach from the rocket midway and passengers will be away from that rocket. Not only this, the capsule has been made in such a way that even if the parachute does not open, it will land safely on the earth. According to experts, even after so much security, this space journey of Bezos is not completely free from danger. It can also be fatal. In 2014, a Virgin Galactic flight was broken into several pieces. One pilot was killed in this accident.
New Shepherd to fly on July 20
Blue Origin's first passenger flight will take off from the launch site Texas on July 20. Amazon CEO Jeff Bezos said last week that he would fly to space with his brother Mark in this first flight. Blue Origin is the company of Jeff Bezos. Jeff Bezos is going to step down as the CEO of Amazon on July 5. After him, Andy Jesse will become the CEO of Amazon.
The amount will go to the foundation of Blue Origin
Blue Origin had earlier said that the proceeds from the auction of a single seat on the first passenger flight would go to the company's foundation. It is a Club of the Future, which promotes the education of Mathematics and Science. The total journey of this flight will be 11 minutes. During this time the flight will travel to an altitude of 100 kilometers (62 mi). Passengers of this flight will travel up to the Kerman Line. This line is known as the boundary between Earth's atmosphere and space.
Customers will get four days experience
Let us tell you that earlier the company has said that those traveling will get a total travel experience of 4 days in space. This includes 3 days of pre-flight training. This training will be given at the company's launch site in Wayne Horn, Texas. During this training, all types of facilities including food and drink will be provided by Blue Origin.