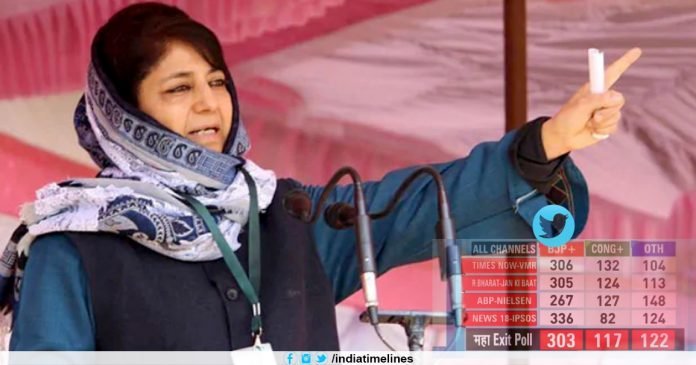 Gupkar Meeting: Gupkar will be involved in the PM's meeting, Mehbooba said after the meeting- What is going to happen in Jammu and Kashmir? Such speculations are being made because Prime Minister Narendra Modi has called a meeting of leaders of all the parties of the state on June 24. The leaders of the Gupkar Group have expressed their consent to participate in this meeting. National Conference leader Farooq Abdullah himself has announced this before the Gupkar meeting in Srinagar.
Before going to the meeting, Mehbooba Mufti said that we will go to Delhi and keep our point. He said that when talks are being held in other countries, why are they not talking in Jammu and Kashmir. He said that his demands regarding Article 370 are still in vain. Mehbooba even said that the Center should also talk to Pakistan.
'Centre did not tell agenda'
In the press conference after the meeting, the Gupkar alliance said that we have not been told the agenda of the meeting called in Delhi. But we will take our agenda. Let them not misunderstand that we will sign their agenda. We will say yes to whatever will be in favour of Jammu and Kashmir, otherwise, we will refuse outright.
'Won't Compromise'
Mehbooba Mufti said that go to Doha and talk with Taliban. The government should come and talk to Jammu and Kashmir. He also said that India should also talk to Pakistan. He said that there will be no compromise on Article 35A and Article 370.
'Will keep your word in Delhi'
Farooq Abdullah also said that Gupkar leaders will attend the PM's meeting. He said that those who have been called will go. Will put his point in front of PM Modi and Home Minister.
'Release prisoners from jails'
We do not know the issue that PM has called a meeting but we assure our people that we will go there and advocate for our people. Prisoners in J&K should have been released. Has harassed people for two years. We will keep our agenda. Release those who are our people in jails. If you cannot release them, bring them to the jails of Jammu and Kashmir.
14 political parties were called
The meeting of all political parties of Jammu and Kashmir with the Prime Minister on June 24 is part of the Centre's initiative to strengthen political processes, including holding assembly elections in the Union Territory. This invitation has been sent to 14 political parties of Jammu and Kashmir.