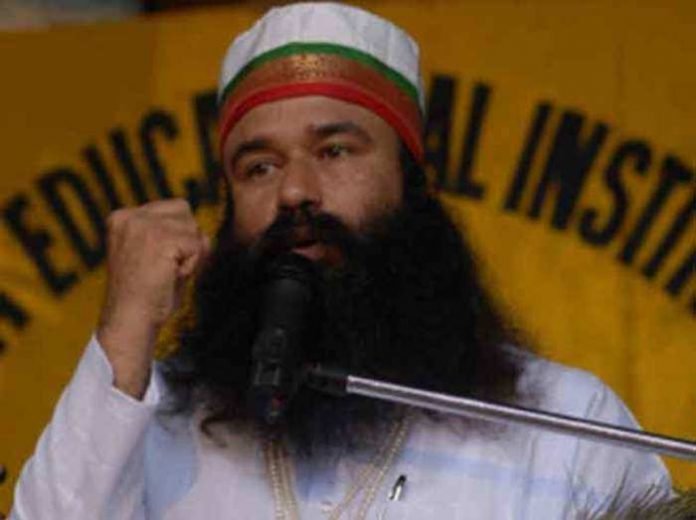 Gumnaam Sadhvi's letter to Atal Bihari Vajpayee and Ram Rahim got Ranjit Singh murdered- The Special CBI Court of Panchkula on Monday sentenced the Dera Sacha Sauda manager Ranjit Singh in the 19-year-old case of murder. Court sentenced self-styled godman and Dera Sacha Sauda chief Gurmeet Ram Rahim and 4 other accused to life imprisonment. Gurmeet Ram Rahim was sentenced to 20 years in jail for raping two of his disciples in 2017 and is currently lodged in the Sunaria jail in Rohtak, Haryana. Apart from this, two years ago, the Dera chief was also sentenced to life imprisonment for the murder of a journalist. Actually, this whole incident is happening due to an anonymous letter written to former Prime Minister Atal Bihari Vajpayee.
Earlier, an anonymous letter had proved Dera Sacha Sauda chief Ram Rahim guilty. The special CBI court found Ram Rahim guilty of rape and sentenced him to 20 years in jail. While the manager of Dera Sacha Sauda, ​​Ranjit Singh, was murdered on 10 July 2002. Shortly before the arrival of this anonymous letter from Ranjeet Sadhvi, he had gone to his home in Kurukshetra with his sister. Dera suspected that this letter was written by Ranjit to his sister.
This letter was written on 13 May 2002 to the then PM Atal Bihari Vajpayee. In this letter, a girl told the incident of her sexual abuse at the hands of Guru Ram Rahim in Sirsa Dera Sacha Sauda. (We are printing this letter as it is. There may be some errors due to unclear typing at some places.)
To,
Honorable Prime Minister
Shri Atal Bihari Vajpayee, Government of India
Subject: Investigate the rape of hundreds of girls by the Maharaja of the Dera.
Mister,
It is that I am from Punjab and now serving as a sadhu girl in Dera Sacha Sauda Sirsa, Haryana (Dhan-Dhan Satguru Tera Hi Asara) for five years. Along with me, hundreds of girls here also serve for 18-18 hours in the dera. We are being physically abused here. Along with this, sexual exploitation (rape) is being done by Maharaj Gurmeet Singh of the dera. I am BA pass girl. My family members are blind devotees of Maharaj, due to whose inspiration I became a sadhu in the camp. Two years after becoming a monk, one day Sadhu Gurujot, the supreme disciple of Maharaj Gurmeet, told me at 10 o'clock in the night that you have been called by your father to the cave (the place of residence of the Maharaj). I was very happy because I was going there for the first time. Knowing that today God Himself has called me. Going upstairs into the cave, I saw Maharaj sitting on the bed. There is a remote in hand, a blue film is playing on the TV in front. The revolver is kept on the bed towards the head. I was surprised to see all this. I started feeling dizzy. The ground beneath my feet slipped. What is this happening? Will it be like this sir? I had never thought of this even in my dreams. Maharaj turned off the TV and made me sit with him and gave me water and said that I have called you my special sweetheart. This was my first day. Taking me in the arms, Maharaj said that we want you from our heart. I want to fall in love with you because you had asked us to surrender our body, mind, and wealth to the Satguru while becoming a sage with us. So now it is our body and mind. In my protest, he said that there is no doubt that we are God. When I asked if it was God's work, he said –
1 – Shri Krishna was God, he had 360 gopis with whom he used to make love every day. Still, people consider him to be God, this is not a new thing.
2 – It is that if we want, we can cremate your life with this revolver. Your family members believe in us in this way and are our slaves. He can't leave us. You know this very well.
3 – That a lot goes on in our government. The Chief Ministers of Haryana and Punjab, Union Ministers of Punjab touch our feet. Politicians take support from us, make the money, and will never go against us. We will get the employed members of your family sacked. Will get all the members killed by their sevadars (guds). Will not leave evidence. It is well known to you that we had eliminated the manager of the dera, Fakir Chand, even before the goons, whose whereabouts are not even known. Nor is any evidence outstanding. On the strength of money, we will buy politics and police and justice.
In this way, my face is blackened and it is happening after 20-30 days in the last three months. Today I came to know that the face of all the girls who lived before me has been blackened. The 35-40 sadhu girls present in the data are over the age of 35-40 years who have passed out of the age of marriage. who has compromised with the circumstances? Most of these girls are BA, MA, BEd, MPhil pass but due to superstitious family members are living the life of hell.
We have to wear white clothes, keep a chunni on our head, do not look at any man with eyes, stay 5-10 feet away from man is the order of the Maharaj but we are a goddess in showing but our condition is like prostitutes. Once I told my family that everything is not right in the camp, then my family members got angry and said that if it is not good while living with God, then where is it? Bad thoughts have started coming into your mind. By worshiping the Satguru. I have compelled Here the order of the Satguru has to be obeyed. No two girls can talk to each other here. Can not talk to family members by telephone. If we get calls from the family members in our name, we do not have any order to talk as per the orders of the Maharaj.
If a girl talks about this truth of the dera, then the Maharaja orders her to shut her mouth. Recently, when the girl Sadhu of Bathinda disclosed the black deeds of Maharaj in front of all the girls, many sadhu girls beat her together. Who is still lying on the bed due to this beating at home? Whose father has got his name cut off from the servicemen and made him sit in the house quietly? Whatever she wants, she is not telling anything to anyone out of fear of slander and Maharaj.
Therefore, you are requested that along with all these girls, I will also be killed along with my family if I write my name and address in it. Because I can't keep quiet and I don't want to die. I want to bring the truth to the public. If you get the investigation done by any agency through the press, then there are 40-45 girls present in the camp who are in fear and fear. After giving full confidence, they are ready to tell the truth. Our medical checkup should be done so that our parents and you will know whether we are Kumari Devi sadhus or not. If not, it has been ruined by someone. It will tell that Maharaj Gurmeet Ram Rahim Singh Ji has been destroyed by Sant Dera Sacha Sauda.
– Applicant
Forced to live the life of an innocent Jalalat (Dera Sacha Sauda Sirsa)