Government Alerts, No need to panic: Says Health minister on UK Coronavirus strain
There's no need to get nervous on new strain of Coronavirus in UK, said Health Minister Dr. Harsh Vardhan.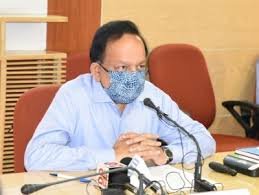 New Delhi: Government Alerts, No need to panic on the new Coronavirus strain in UK as government is fully alert about this new threat. "There is no need to get panic " over the new strain as Canada , Saudi Arabia, and many European countries have allegedly banned flights from United Kingdom is beloved to be 70 percent more infectious, says Health minister Harsh Vardhan. He further added " At this point of time, No need to get panic with imaginary situations, imaginary talks and chaos." The government is fully in action to combat this alarming situation and have taken all the measures to ensure the safety of the people. The health minister told reporters in the "India Science Festival" this afternoon that "There's no need to create a chaos on this unforeseen situation.
Dr. Harsh Vardhan's remark came just after Delhi's Chief Minister Arvind Kejriwal tweeted, In his tweet he he urged the Government of India to ban all the flights from UK immediately as the new mutant virus has emerged in UK. The mutant Coronavirus was first detected in Southeast England in September. It is quickly becoming dominant strain in some parts of London and around UK, and the number of cases are quickly spiking, casting a cloud on Christmas celebrations.
On Sunday , British Health Secretary Matt Hancock said " The new form of Coronavirus is more rigid." British Prime Minister Boris Johnson says, that there is no proof found that it causes serious infection.
In Italy a patient has reported infected with Coronavirus after returning from United Kingdom. This has worried experts around the world that Covid-19 vaccines to boost and combat against rigid Coronavirus.
European Union experts have showed their beliefs that these vaccines are proving effective against the new fast spreading coronavirus.
For more new click on the link https://www.indiatimelines.com/