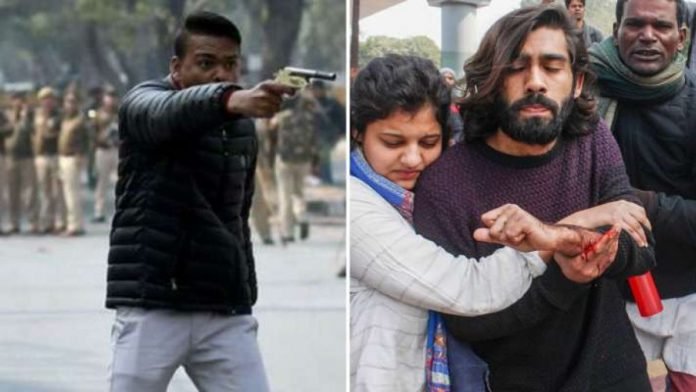 Gopal Sharma News: Jamia shooter Gopal Sharma arrested for giving provocative speech- Gopal Sharma, who came into the limelight by firing outside Jamia during a protest against the Citizenship Act (CAA), has been arrested by the Haryana Police on charges of hate speech. He is accused of giving hate speeches against Muslims at the Mahapanchayat in Pataudi, Gurugram. A case was registered against him after a complaint by a man. After his arrest, he has been sent to judicial custody.
A person resident of village Jamalpur complained to the police station that Gopal not only gave provocative speeches but also tried to disturb the harmony between the two communities. After registering a case, the police is now investigating the matter. Let us tell you that Gopal is accused of firing at the students of Jamia Millia Islamia who are protesting against CAA. It was caught by Delhi Police at that time.
According to the police, the complaint of hate speech was given by Dinesh of village Jamalpur. The complainant said that on July 4, a mahapanchayat was organized at Ramlila Ground in Pataudi. This panchayat was held in Delhi-NCR and some cities of UP regarding conversion of deaf and deaf students to religion, love jihad etc. On behalf of Hindu organizations, a Mahapanchayat was called and protested against the change of religion. During this, Gopal Sharma gave a controversial statement to the Mahapanchayat.
He had said that if people of any community harass your daughters, then treat their daughters and sisters in the same way. Gopal was seen advocating violence against Muslims in the viral video of this Mahapanchayat. He had even said in hatred that when Muslims were killed, they would shout the name of Lord Ram. However, after no complaint was received, the police did not take any action. Now after the allegation of the complainant resident of Jamalpur, he has been arrested.
At the same time, the complainant says that this speech is provoking religious sentiments. The video is going viral on social media. He has also demanded action in the matter by giving the links of two videos viral on YouTube to the police along with the complaint. On which an FIR has been registered in Pataudi police station under sections 153A and 295A of IPC.
DCP Manesar Varun Singla had told on Monday that investigation is going on in the matter. Gopal is said to be a resident of Jewar in Gautam Budh Nagar. His father runs a paan shop in the village itself.