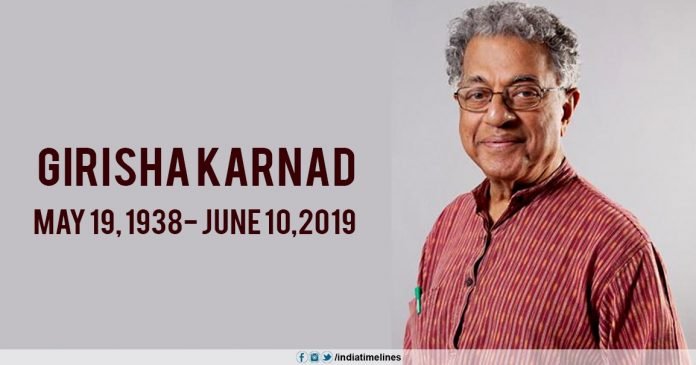 Girish Karnad dies at 81: Renowned character actor and writer Girish Karnad of Indian cinema died in Bangalore after a long illness on Monday. He was 81 years old. Reason of death is multiple organ failure is reported. He was known as India's famous contemporary writer, actor, film director and playwright. Girish was a professor at the University of Chicago. Returned to India after not feeling involved in the job, then completely joined literature and films.
Girish Karnad dies at 81 – Celebs, politicians express condolences
On 19 May, 1938 he was Karnad in Matheran, Maharashtra. After graduation from Karnataka Art College, went to England for further studies. He worked for seven years in the Oxford University Press in Chennai. After this he started doing the theatre. He was awarded Padma Bhushan, Padmashri and Gyanpeeth Award. National Film Award for 1978 film 'Role' and four Filmfare Awards after this.
He Played the role of RAW in Salman's Tiger Series
Girish also worked in Salman Khan's film 'Ek Tha Tiger' and 'Tiger Jinda Hai'. Tiger is his last film in Bollywood. In this he played the role of Dr. Shenoy. He started acting and screenwriting career from Kannada Film Sanskar (1970). For this, he got the first President Golden Lotus Award in Kannada cinema. His first film in Bollywood was the 'Shankhach of Magic' in 1974. After this, the film also worked in Nishant, Apartheid and Chok Ann Duster.
The first play was written in Kannada
Girish Karnad had a similar catch in both Kannada and English languages. His first drama was in Kannada, which was later translated into English. In his plays, 'Yyati', 'Tughlaq', 'Hayvadan', 'Anjoo Mallige', 'Agnimatu Maale', 'Nagandal' and 'Agni and Barakhana' are quite well known. For 40 years, Karnad kept his courage among the playwright. He wrote well on contemporary concepts.
These rewards were awarded
Girish received Padma Bhushan in 1992, Padma Shri in 1974, Sangeet Natak Akademi Award in 1972, Kannada Sahitya Akademi Award in 1992, Sahitya Akademi Award in 1994 and Kalidas Award in 1998. In 1978, the film got a National Award for 'Role'. He was also awarded the Gyanpeeth Award in 1998. For the latest updates, you can visit www.indiatimelines.com.