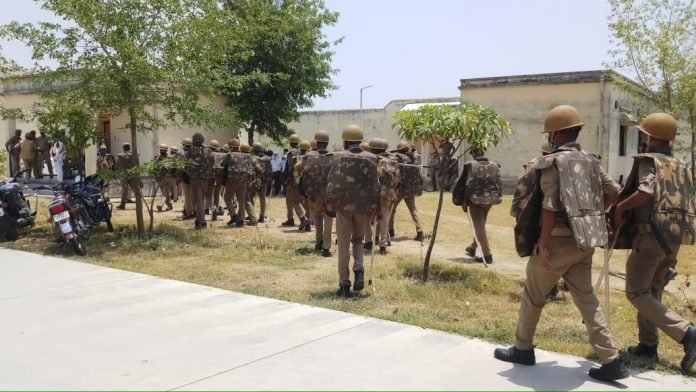 Chitrakoot Jail was shaken by a flurry of bullets on Friday. Sitapur's sharp shooter Anshul Dixit gunned down two top most criminals, Wasim Kala and Mirajuddin. Later, the police also killed Anshul alias Anshu in the encounter. Mirajuddin Mukhtar is being described as the vicious criminal of the gang.
According to jail sources, the vicious criminal Anshul has been in jail for several months. Gangster Wasim Kala of West UP and Mirajuddin, a henchman of Mukhtar Gang of Purvanchal were also brought to Chitrakoot jail a long time ago. On Friday morning, Anshul took the opportunity and opened fire on both the miscreants with a pistol. By the time the security personnel could understand something, several rounds of bullets were fired at Wasim and Merajuddin. Both died on the spot. After this, the security personnel challenged Anshul and asked him to surrender, but he started firing on the security personnel. In retaliatory firing, he was hit by a police bullet. All the top officers including IG, Commissioner, DM, SP reached the jail as soon as the news was received. Within an hour, the force of several police stations inside the jail also reached the front.
Merajuddin came from Banaras, Mukim was from Saharanpur
The murdered crook came from Saharanpur jail while Mukhtar's henchman Merajuddin was brought from Banaras. It is being told that apart from Mukim, Merajuddin, three other prisoners were also attacked by Anshu Dixit. However, it has not been confirmed yet.
Anshul was killed for the first time in 2008
Anshul alias Anshu Dixit, a native of Manakpur Kudra Bani in Sitapur district, came into contact with the criminals after enrolling in Lucknow University as a student. In the year 2008, he was caught in Bhore of Gopalganj (Bihar) with illegal customs. Anshul was sent to Chitrakoot jail in Sultanpur jail in December 2019 after the video went viral.
In the jail, the top most criminal Merajuddin of West UP and Mukim alias Kala have been fired by Sharp shooter Anshul alias Anshu Dixit of Sitapur. Anshu is a sharp shooter from Sitapur. Merajuddin and Mukim were killed in clashes between the two groups. Anshu is also killed in a police encounter in the jail premises itself.
K. Satyanarayana, IG, Chitrakoot Dham Circle