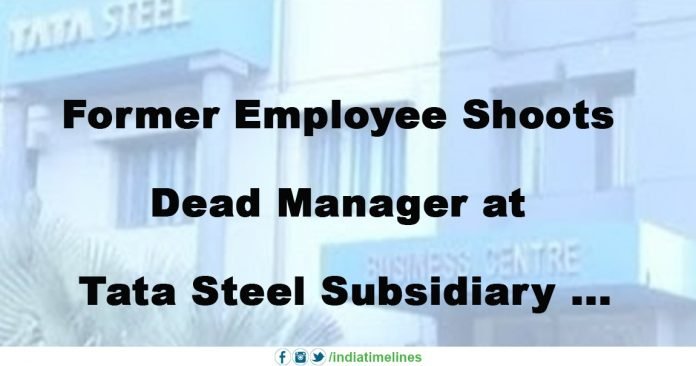 Former Employee Shoots Dead Manager at Tata Steel Subsidiary: In the Faridabad office of TSPDL (Tata Steel Processing and Distribution Limited), 35-year-old senior manager, was working inside Tata Steel Stockyard, was shot on Friday afternoon, police told us, a former employee – who has fired from the executive post 4-5 months ago – is the main culprit behind this crime. The accused ran away after the incident from the crime scene,  and the police began raids to grab him.
Former Employee Shoots Dead Manager at Tata Steel Subsidiary
As per the police, the victim, Arindam Pal, is from Kolkata and was a senior manager (inventory chain) in Stockyard situated in Faridabad's new industrial township (NIT) area. He used to live in the Sainik colony with his wife and daughter. The accused, Vishwash Pandey, is from Allahabad, and have been dismissed from an employee on the basis of a report gave by the victim, police stated.
"The company had started investigations against Pandey and soothed him of his administrations four to five months back, on grounds of indiscipline.  PRO of Faridabad Police, Sube Singh told that, on the basis of which he was fired from the job, that report was presented by the victim. Was presented by the deceased. "It is clear the Pandey did this crime and killed Arindam Pal in revenge. Other workers told the police about the murderer, they recognized him and in this case, FIR has been registered against him," police added.
The incident happened at 1.10 o'clock in the afternoon, when the shift was starts changed at the Stockyard. The police stated that the accused entered in the buildings through the main gate and without permission went to Pal's cabin, where he started the open fire and killed him at least 5 times in the stomach before running through another door in the yard.
Arindam Pal was taken to Fortis Escorts Hospital in NIT by the staff, where is he was proclaimed dead. His wife who has gone to Kolkata with her daughter for Diwali celebration is expected to reach tonight. The post-mortem is been conducted today," told Ashok Kumar, SHO (Station house Officer) of Mujesar police station. The case has been registered under IPC section 302 (Murder).