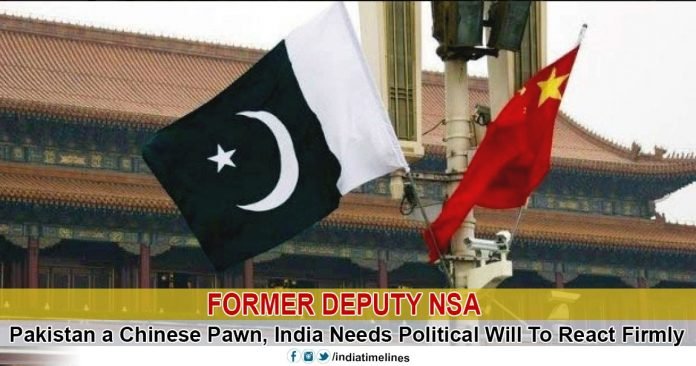 Former Deputy NSA Satish Chandra said that although the cooperation between Pakistan and China was not new, the China-Pakistan Economic Corridor (CPEC) made it a defined element.
Among the reports that China was compromising on Military facilities with Pakistan, former Deputy National Security Adviser Satish Chandra said that deeper Cooperation between the two countries was a matter of series concern for India.
Former Deputy NSA: Pakistan a Chinese Pawn, India Needs Political Will To React Firmly
Former Pakistan High Commissioner said that while the cooperation between the two was not a new element, the China-Pakistan Economic Corridor (CPEC) made it a defined element.
"Cooperation in military space between Pakistan and China is not a new element and has existed since the 1960s. The only new element is CPEC. And this is a certain amount of change because investment is huge. Chandra said that these two countries have the hand and should understand that Pakistan is a Chinese pawn and it will always be that way.
He further said that both the countries which were involved in the hip meant to have trouble for India and it was time for India to develop retention capacity.
"We have neglected our defense capabilities since independence. Right now our defense spending is at a historic low level of about 1.5% of GDP. At Kargil, it was felt that it should be around 3% of GDP, "he said.
In addition to having the capacity of defense, he further said that India needs a political will to react strongly to Pakistan and to heterogeneous China.  "The applicable opportunities to put pressure on these two countries will be born from time to time and India will have to forcibly them." Former diplomat said.
A New York Times investigative report pointed to a secret plan about China's military project in Pakistan under President Xi Jinping's ambitious Belt and Road Initiative last week.
According to the report, a special economic zone will be created under CPEC to make fighter jets and navigation systems in factories in Pakistan. However, China has rejected the reports.
Foreign Ministry spokesman Hua Chunying said that "Mega Project" included only industrial parks and facilities and facilities to improve the lives of people in Pakistan.