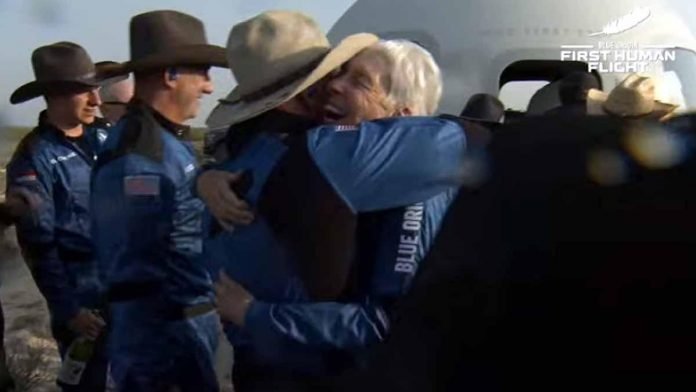 First Human Spaceflight: Jeff Bezos and his three companions returned to Earth safely- A history has been made in space today. Amazon founder Jeff Bezos's company Blue Origin's tourism rocket New Shepard went into space at 6.30 pm today with four people and returned safely to Earth in no time.
Jeff Bezos, his brother Mark, 18-year-old Oliver Damon from the Netherlands, 82-year-old woman from the aviation sector, Wally Funk, joined Jeff Bezos in this space journey.
18-year-old Oliver Damon became the first customer
Oliver Damon, 18, from the Netherlands has become the first customer to pay for space, although the price of the ticket has not been disclosed. Damon is also the youngest person to go to space. "I'm so excited to experience zero gravity and see Earth from above," Damon said in a video posted by Netherlands broadcaster RTL ahead of the trip.
Let us tell you that Blue Origin's New Shepard rocket took off from West Texas and then returned safely to Earth. It is worth noting that nine days ago, Richard Branson of Virgin Galactic has returned after traveling to space.
how is the new shepard rocket
The five-storey high New Shepard rocket has been designed in such a way that it can fly to space with six people.
This rocket is capable of carrying passengers to a height of about 340,000 feet.
Those who want to go in it will be able to experience weightlessness in microgravity for a few minutes.
People sitting in it will also be able to see the earth from a great height.
The New Shepherd rocket and capsule are named after 1961 Astronaut Alan Shepherd.
Alan Shepherd was the first American citizen to reach space.
It can seat 6 passengers, but on Tuesday evening, four passengers sat in it.
It does not have a pilot and the vehicle is fully automatic. It is controlled from a master control center built on the ground. After launch, there is no need to give any kind of command in it.