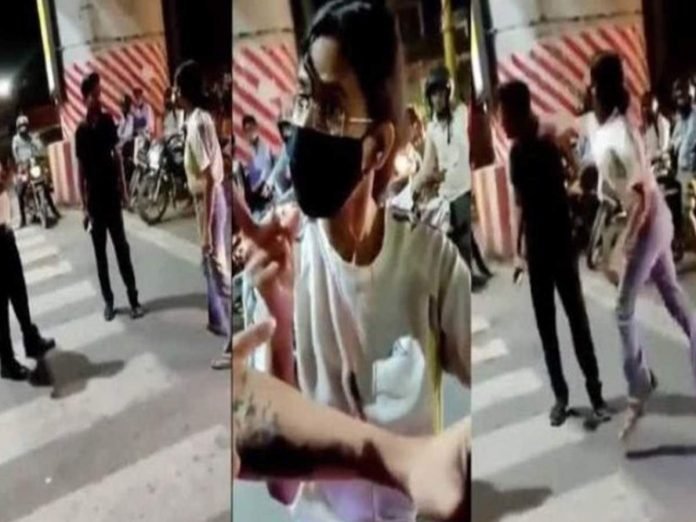 FIR against girl who slapped a cab driver in Lucknow: Demand was raised on Twitter- Today we will tell you about the incident of road rage in Lucknow, the capital of Uttar Pradesh, which is currently the subject of discussion on social media platforms. A video of this incident is becoming increasingly viral, in which a woman crossing the road and a cab driver are seen fighting with each other. During this, the woman slapped this driver not one or two but more than 20.
Police kept watching
According to the police, this video is from July 30. Seeing this, it seems that the woman's car may have been hit by a collision, and in this anger, it beat up the driver. When all this was happening, the traffic police was also present there. But in the presence of the police, this woman kept beating this driver for a long time. However, during this, the driver did not misbehave with the woman and kept slapping silently. He did not say any abusive words to the girl, he did not force anything. Not only this, when a person came to the rescue, this woman also slapped him. But after this, the police took this cab driver to the police station on the contrary and challaned it for disturbing the peace. While the woman was left with just a warning. The age of this woman is being told between 28 to 30 years.
Woman broke the driver's phone
A CCTV footage of this entire incident has also surfaced, seeing that it seems that this woman was trying to cross the road during the moving traffic, and during this time she came in front of a cab. However, the cab driver applied the brakes on time, and the woman was saved from getting hurt. But still, this woman beat up the cab driver. It is alleged that this woman also broke her mobile phone.
Demand for arrest raised on Twitter
This was the reason that today a #ArrestLucknow Girl trending on Twitter, and people started demanding to arrest this woman. People argue that if a man had done this in place of this woman, then perhaps the police would have put him in jail. But this did not happen immediately in this case, and a debate broke out as to why people forget equal rights in such cases. Meanwhile, many women also came in support of the cab driver and started demanding the arrest of this woman. After finally coming under pressure, Lucknow Police has registered an FIR against the accused woman in this case.
'FIR then okay, what about self-respect?'
The name of this cab driver is Shadat Ali. Today Zee News also spoke to Shadat Ali, 35. They say that the FIR against the woman is fine, but what will happen to the injury caused to her self-esteem? Maybe this person can even forgive the woman who beat him. But the way this incident has been recorded in the world of the internet, after that it will not be possible for anyone to erase its memories forever. People will not be able to forget this incident even if they won't, because the Internet does not give them the right to be forgotten.
This punishment is given for fighting in a public place
By the way in India, if you fight in a public place or on the street in this way or commit violence against someone, then under section 159 of the IPC, you can be sentenced to one month in jail, and a fine of 100 rupees. Might as well. But on most occasions, the police release the offender with just a fine.
Why didn't anyone stop the woman?
Generally, most of the laws of India do not discriminate between women and men and there is a provision of equal punishment for all for committing a crime. But when such an incident happens, the debate often intensifies that when a woman commits violence, why does the police avoid taking action against her? Therefore, today the whole country has to think that in the name of giving equal status to women, can we ignore such incidents? The biggest thing is that when this woman was beating this driver, then policemen were also present there and common people were also present, but no one showed the courage to stop this woman. Because all of them were afraid of laws giving special rights to women.