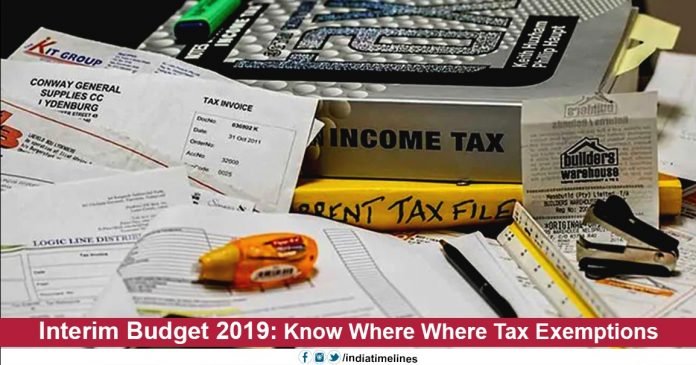 Interim Budget 2019 Know Where Tax Exemptions:- Modi Government has presented the final budget of the present tenure. This time, due to the illness of Arun Jaitley, Piyush Goyal presented the budget in the Parliament as the caretaker finance minister. Stay connected with us … No tax will be given on the annual income up to Rs 5 lakhs. So far the income of 2.5 lakh rupees was exempt from tax on the annual income.
Interim Budget 2019 Know Where Tax Exemptions
New Delhi – The Modi government has left no stone unturned to make taxpayers happy in the interim budget. Finance Minister Piyush Goyal on Friday announced several major announcements, whose taxpayers had long been waiting. Let's tell you how much and how many discounts have been announced by the government.
Income up to Rs 5 lakh, no tax tension: personal income up to Rs 5 lakh is completely tax-free. So far income tax up to Rs 2.5 lakh was tax-free.
Tax waiver from investments on higher earnings:  No tax will be required on personal income up to Rs 6.50 lakh with various investment measures.
Standard deduction: In the previous budget, the government started a standard deduction of 40 thousand rupees. Now it has been increased to 50 thousand rupees. With this, more than 30 million salaried and pensioners will get an additional benefit of Rs 4,700 crore.
TDS limit on rental income: TDS limit has been announced from Rental Income from 180,000 to 2,40,000 on rental income.
Second is the house then there is no tax: there is no hypothetical tax on the second house. At this time, leasing tax is payable in the case of when there is more than one house in which the self is living.
Interim Budget 2019 Know Where Tax Exemptions
Under Section 54 of the Income Tax, the scope of relaxation of capital gains on reinvestment will be increased to two lakh crores for the taxpayers who have earned capital gains from a residential house to two residential houses.
No tax on interest: The Finance Minister has given the exemption from tax deduction (TDS) on the source of interest up to Rs 40000 on the savings and savings accounts of banks and post houses. The discount was just up to 10000 rupees.
Gratuity limits also increased: The government announced to increase the limit of gratuity from Rs 10 lakh to Rs 30 lakh.