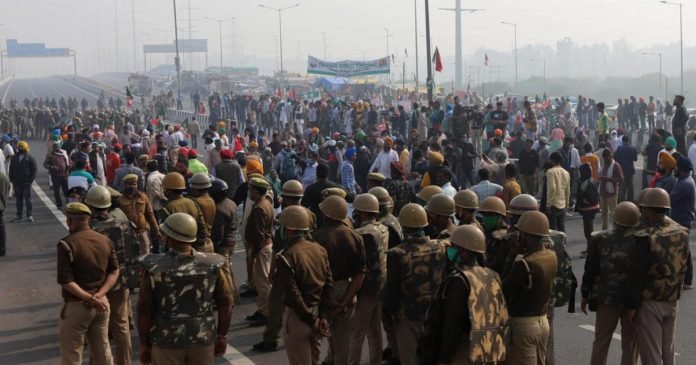 There was a ruckus amidst the ongoing farmer demonstration at the Delhi-UP Ghazipur border in Ghaziabad. On Wednesday, there was a fierce clash between BJP workers and farmers standing in the reception of BJP State Minister Amit Valmiki of UP. BJP workers allege that the farmers broke the glass of vehicles present in large numbers and the workers were attacked by the farmers with swords, spears, sticks and sticks. On the other hand, farmer leaders are calling it a conspiracy of BJP. However, the police reached the spot and dispatched the BJP convoy.
BJP's allegation on farmers
BJP's Metropolitan Women Vice President Ranita Singh said that when Amit Valmiki, the organization minister of Uttar Pradesh reached Ghaziabad on Wednesday morning, BJP workers were present to welcome him. Women activists were also among them. Suddenly the farmers sitting on the dharna created a ruckus and attacked the workers present with sticks, sticks and swords and spears etc.
The BJP leader said, "In the name of the farmers' movement, some goons are sitting here who have carried out this heinous act." He has filed a complaint against all these accused in the police station and has demanded strict action.
Farmer leader told BJP's conspiracy
On the other hand, farmer leader Jagtar Singh Bajwa said, 'BJP is trying to malign the farmers' movement. The farmers have not thrashed them nor broke anyone's car. Rather, some BJP workers present there have done this themselves. Jagtar Singh said that those who are accusing the farmers have done all this. He will go to the police station and file a complaint against him.